Donald Trump has delayed an announcement on how he plans to separate his business empire interests from his role as US president.
The US president-elect had been due to hold a rare press conference on Thursday to discuss how he would deal with perceived conflicts of interest.
Mr Trump's spokesperson said the announcement would now come in January.
Meanwhile, Mr Trump said he was appointing Goldman Sachs President Gary Cohn as his "top economic adviser".
Mr Cohn will head the White House National Economic Council, a position that will make him one of the most influential voices on economic decisions in the White House.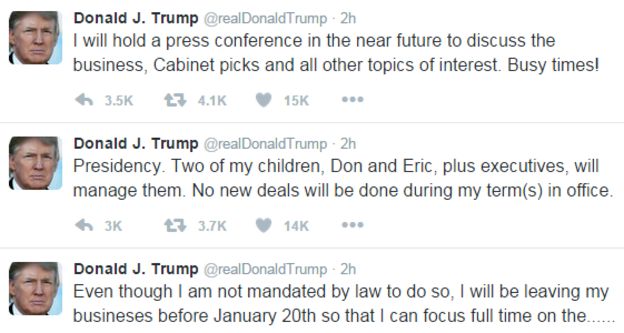 The Goldman president is the third person from the bank to join Mr Trump's cabinet.
Steven Mnuchin – the incoming Treasury Secretary – and Steve Bannon – the new senior White House adviser are both former Goldman executives.
Mr Trump also said that he would make an announcement about his choice for secretary of state on Tuesday morning.
'Proper protocols'
On his Twitter account, Mr Trump says he will hold a news conference "in the near future" to discuss his business interests and his cabinet picks. He also indicated that two of his children would manage his businesses, with the help of executives, and that "no deals will be done" when he is president.
Mr Trump's transition team spokesman Sean Spicer said it had been postponed to make sure "proper protocols are put in place".
"With so many iconic properties and successful entities, moving the announcement to January ensures the legal team has ample time to ensure the proper protocols are put in place so his sole focus will remain on the country and achieving his ambitious agenda with the help of the world-class cabinet he has built," Mr Spicer wrote in an email statement to the Associated Press news agency.
Mr Trump's extensive domestic and international business interests include hotels and golf courses, including two in Scotland, as well as a variety of real estate holdings: ownerships or investments in hotels, offices and residential buildings.
Last month, Mr Trump issued a series of tweets pledged to "leave my great business in total" saying it was "visually important" to "in no way have a conflict of interest".