Fifteen supporters of Togolese opposition party, Pan African National Party (PAN) have been handed jail terms for their role in recent anti-government protests.
The convicts, including PAN Secretary General, Dr. Kossi Sama, were handed sentences ranging between five and nine months by the court.
One of their lawyers confirmed that they were charged principally with damaging public property even though no testimony was presented in court.
Describing the case as a politically motivated one, lawyer Paul Dodi Apevon said: "All they've said today is that people damaged public property, but no-one has testified to this.
"There is nothing in the prosecution case that names a witness who could prove that they were seen somewhere doing a specific crime," he added.
Over a hundred people were arrested during protests calling for an end to the Gnassingbe dynasty which has ruled the west African nation for five decades.
Two people died from the protests which was broken by police crackdown. The opposition coalition behind it postponed second round of protests to next week.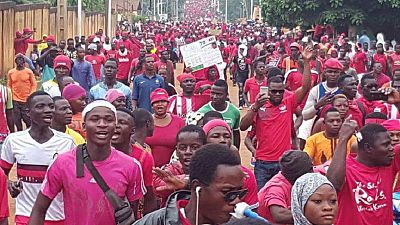 Meanwhile, a pro-government demonstration also took place on Tuesday led by Prime Minister Selorm Klassou. He was joined by other state functionaries and supporters of the ruling Rally of the Togolese People (RTP).