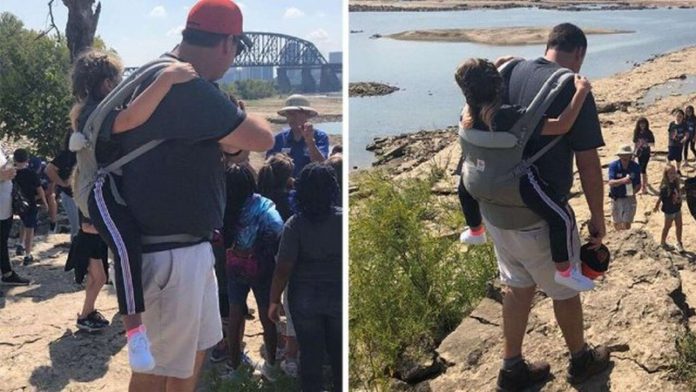 A Kentucky teacher has gone viral for a thoughtful act that ensured no student felt left out.
Students at Tully Elementary School in Louisville went on a field trip to the Falls of the Ohio this past Thursday. However, one of the students, Ryan Neighbors, uses a wheelchair and thought she wouldn't be able to join because of the rugged terrain, her mother told Fox News on Tuesday.
Shelly King said that teacher Jim Freeman volunteered to carry Neighbors on his back the entire trip, ensuring the ten-year-old was able to join her classmates.
King said her daughter has spina bifida, which is a birth defect that occurs when the spine and spinal cord don't form properly, according to The Mayo Clinic. She told Fox News that she initially thought either her daughter would not be able to go on the trip or she would have to join the group and carry her daughter so that she wouldn't be excluded. But when Freeman found out about the situation, he volunteered to help.
"I was blown away," King said. "Mr. Freeman, he's not her teacher but he teaches in the classroom next door. That's what I think makes it so heartfelt because he's not her teacher. He didn't have to do it."
"They did not have a super personal relationship before this," added King, who said that she was grateful that Freeman was so compassionate and willing to help.
King wrote on the Facebook page "Team Ryan" that she was planning an "alternate field trip day" for her daughter when Freeman volunteered to "tote [Ryan] around on the falls all day."
She wrote that she was touched by the sweet gesture – and that Ryan was excited she was able to go.
"She is sooooo excited to do this independent from me," wrote King, who also posted photos from the field trip showing Ryan enjoying her time.
"Omg MELT MY HEART," King wrote.
During the field trip, Ryan sat in a carrier that Freeman had on his back.
Neighbors told Fox News "it felt really nice" that she could join her classmates on the field trip.
"I liked it so much," she said, adding that she learned a lot on the trip. "We got to see the fossils and the bones … and I thought it was really fun."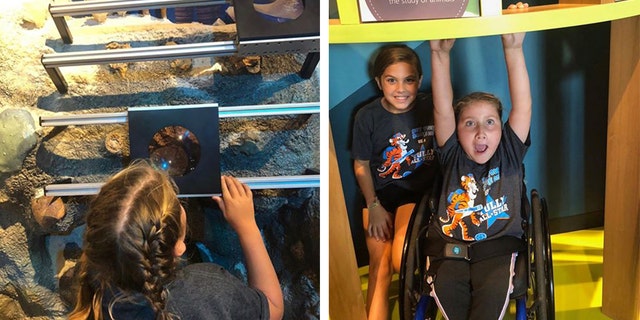 "My friends felt really jealous because I got to have a piggyback ride," she added.
She also had a message for Freeman: "Thank you. I felt really special … I didn't know him before but I love him."
Freeman did not immediately respond to Fox News' request for comment, but WLKY-TV reported that the teacher said he was not looking for recognition, adding that he does not feel he did anything out of the ordinary.
"This is just one physical act that you can see, but we do this countless times throughout the school day and throughout the year," Freeman told the television station.
"We are sooooo blessed to have an ENTIRE school that is so compassionate and empathetic and NEVER make her feel left out," King gushed on Facebook. She wrote the post on Friday and as of Tuesday, it had shared more than 1,000 times and included more than 200 comments.
Source: Foxnews