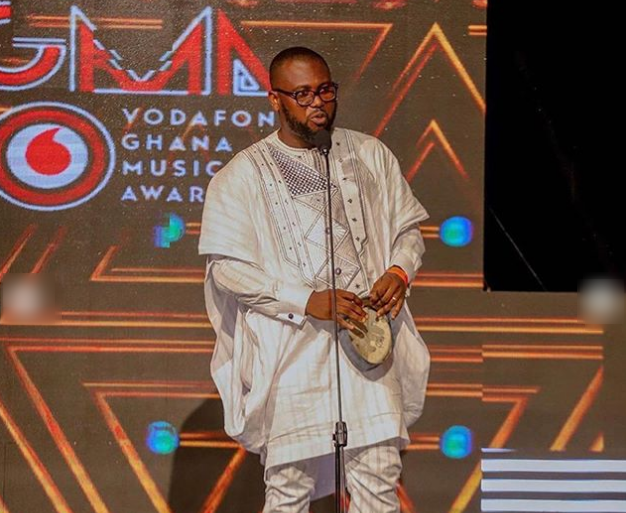 Broadcaster Abeiku Santana who was handed the responsibility of presenting the Dancehall Artiste of the Year Award at last Saturday's Vodafone Ghana Music Awards (VGMA) says he felt disrespected by what followed the presentation.
Mr Santa said the two musicians – Stonebwoy and Shatta Wale deserved to be punished for bringing the otherwise beautiful event's name into disrepute.
Speaking on Adom FM's morning show, Dwaso Nsem on Monday, Abeiku who witnessed the event unfold before his very eyes said he was surprised to the core.
READ ALSO: I married my best friend – Mrs Dumelo
"I was surprised; there were policemen, ministers and ambassadors [sitting in the auditorium]. I was so surprised and I didn't know why they would do that on National TV. They didn't respect me on stage, I am very angry. They were nobody and had nothing and we took them to shows and others through their journey… it stops us from helping upcoming ones. It's a caution to us," he said.
Shatta Wale followed Stonebwoy with his team moments after Stonebwoy was announced as the winner of Reggae & Dancehall Artiste of the Year.
The attempt to get onto the stage and a subsequent attempt to prevent same resulted in a clash that caused Stonebwoy who was on the podium receiving the award to pull a gun.
The situation temporarily disrupted the ceremony, causing some patrons to leave the event in fear.
But Abeiku Santana who presented the plaque to Stonebwoy condemned the artistes for tarnishing the image of Ghana's music industry.
ALSO READ: Mark Okraku replies Tic after saying 3 musicians control Ghana's music
He asked the police to be firm with the law by making sure that justice is served to resolve matters amicably.
"What the police has done by inviting the duo is in the right direction and I'll encourage them to get them to sign a bond of good behaviour so their followers who think they are demi-gods know that they are not," he urged.
Abeiku also asked Shatta Wale and Stonebwoy to talk their followers out of violence.
"The fight on social media could trigger their followers [into being violent]. Their actions are a threat to Ghanaian music. The rivalry was a lyrical one but now, it's becoming physical," he noted.
Source: Adomonline.com/ Dennis K. Adu