American TV star and comedian, Steve Harvey, is back in Ghana after he was in the news recently for visiting the West-African country in relation to the Year of Return.
He was captured in a picture when he met two of Ghana's respected personalities, Otumfuo Osei Tutu II and the former president of the Republic of Ghana, His Excellency John Agyekum Kufuor.
The meeting appears to be coincidental for the trio to meet. It was indicated that Otumfuo Osei Tutu was on a visit to ex-president Kufuor.
At the same time, the American celebrity was also at ex-president Kufour's house where the two renowned men met.
READ ALSO
Photos of the meeting has Steve Harvey exchanging pleasantries with the well-respected men.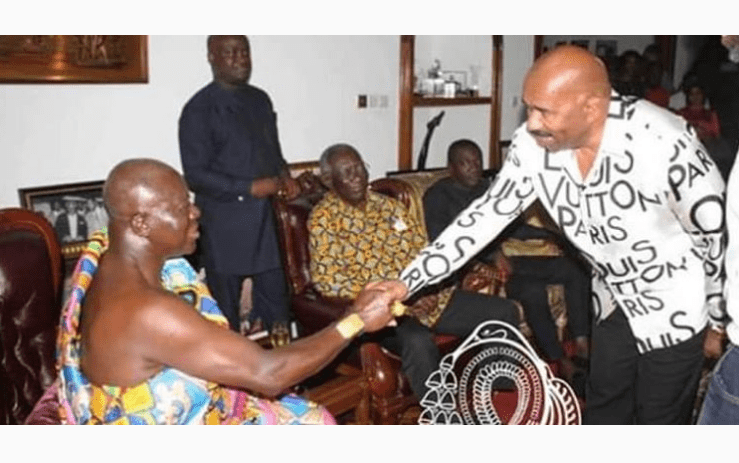 He had a handshake with Otumfuo who was filled with smiles as he appeared to have been very pleased by the gesture of the American humour-maker.
Steve Harvey's return to Ghana is not a surprise as he stated on his first visit that he was going to return with more people.
This is part of the Year of Return commemoration. 2019 was named the Year of Return by the government of Ghana for descendants of slaves who were sent outside their home continent to come back and see their roots.
In his first visit, Steve described how the experience in Ghana made him feel and said he wanted other people in America to come and have the same experience he described as very emotional.
The 62-year-old has undoubtedly not failed on his words as his return indicates that he is in the process of letting more Black-Americans have the rich experience he had in Ghana.