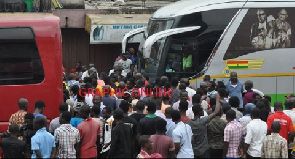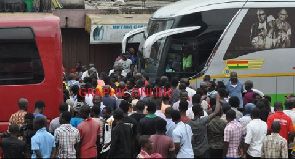 The Ashanti Regional Security Council (REGSEC) is expected to meet with two feuding transport companies Tuesday over a contentious parcel of land that belongs to the Ghana Private Road Transport Union (GPRTU).
The STC bus services and private bus company, VIP clashed Monday following a heated disagreement over the land.
The meeting will afford the factions the opportunity to state their claim to the land to the Regional security capos after the police stepped in to stop the fracas.
The clashes started at the Asafo bus terminal where some workers of the VIP Transport Group prevented drivers of STC from using an area close to their terminal. They also prevented an STC bus filled with passengers from taking off.
The GPRTU has explained the land is their property which it has allowed one of its 21 union members – VIP – to use. The disagreement is, therefore, between GPRTU and STC and not a VIP versus STC as reported earlier.
Providing further clarification, GPRTU Public Relations Officer, Lukman Owusu Ansah said, STC has not been able to produce any lease covering the land when it was challenged to do so.
He rejected the claim that the land was sold to the STC by a local GPRTU chairman also referred to as Asafohene.
"Asafohene said he has not given out any lease to anybody", Lukman Ansah said. He added that the Asafohene "knows from infancy that GPRTU owns this place and that his forefathers gave the place to GPRTU".
The PRO maintained the disagreement is strictly over the land and not a competition for passengers following the revamping of STC bus services.
STC used to be the preferred travel destination decades ago until mismanagement by the state created opportunities for private players.
The PRO said, "on no grounds can STC compete with VIP…STC can never compete with us."
"[VIP] has about 400 buses. They have just over 50 buses," he added. But Board Member of STC, Samuel Oppong, insisted the company has documentation establishing their right to the property.
"We paid for space," he said and vowed to enlist the help of soldiers if police are not up to the task of defending their legal rights to the parcel of land.
"We have got the law by our side. What they did is not legally right" he condemned the GPRTU resistance.