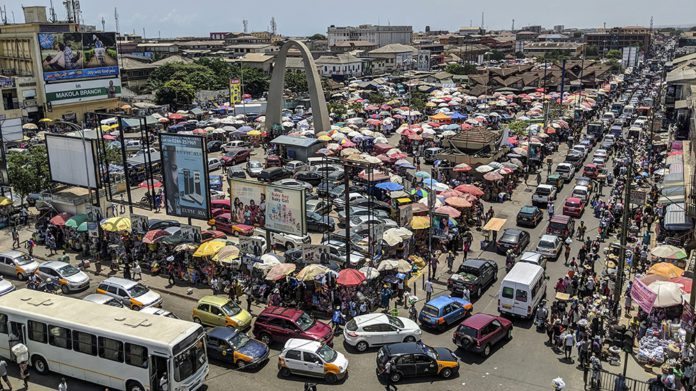 The La-Nkwantanang/Madina Municipal Assembly (LaNMA) has earmarked three roads that would be closed to vehicular traffic during the festive season.
The roads to be turned into markets include Nkulenu Street, Asante and Asante Street and Old Assembly Road within the central business area of the Municipality.
Mr Francis Kwaku Asiedu, the Municipal Coordinating Director for LaNMA, announced this when the National Road Safety Authority (NRSA) paid a working visit to the Municipality.
The team later toured the roads that had been earmarked for closure.
Mr Asiedu said the action has become necessary after the Minister for Local Government announced the closure of the roads from December 16, this year to January 1, next year.
However, the Municipality has resolved to start the closure from December 23 to 27, adding that it could be reviewed in line with the timeline given by the Ministry.
He said motorists, who desire to use such roads, should do so before 0600hours or after 1800hours as the roads would be closed within those periods to facilitate the smooth trading activities without any accidents.
Mr Asiedu said the Municipality has observed that during festive seasons, trading activities pick up and become intensive, hence the need to have a measure to handle the activities of hawking to reduce road crashes.
He said the Municipality has directed the Motor, Traffic and Transport Department to ensure that the directive was successfully carried out to encourage trading activities within the Assembly.
Mrs May Obiri-Yeboah, the Director General of the NRSA, urged the Municipality to ensure that all stakeholders were fully aware of the directive before its implementation.
Mrs Obiri-Yeboah said the Authority is touring the Municipality to ensure the road closure was done in a manner that would reduce conflicts between drivers and traders.
She said there is the need for a continuous sensitization of the public to ensure that no one was inconvenienced in the quest to satisfy another group.
On the Asante and Asante Street, one of the roads that has been earmarked for closure in the Municipalities, trading activities were busily taking place amidst the movement of pedestrians and vehicles sharing the narrow path.
Mr Martin Afram, the Director for Monitoring and Evaluation at the NRSA, urged the Municipality to consider using directional signs for the road that would be closed and motorists directed appropriately to right routes.