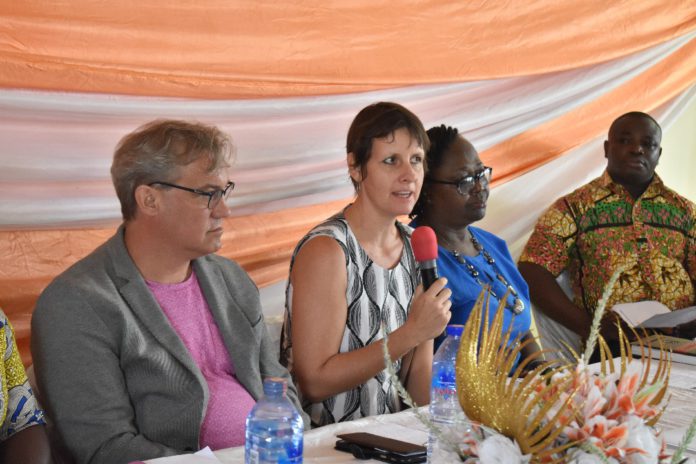 SabreEducation, a multi-award winning charity organization in collaboration with the Ghana Education Service has launched a program to scale up quality kindergarten education in four district and municipal assemblies in the Eastern Region.
The exercise offers a strategy to introduce a new approach to teaching and learning, which is child-centered, activity-based and recognizes the value of play in early years.
The program is firmly committed to supporting the Ghana Education Service in delivering this Operational Plan, and changing the way that the youngest Ghanaian begin their education.
In all One hundred and twenty head teachers, district education directors, teachers and district Cordinating directors from Akuapem North, Akuapem South, Nsawam-Adoagyiri and New Juabeng districts benefitted from the training program.
Addressing the participants at the launch in Koforidua , Jon Beaulieu, Chief Operating Officer of Sabre education said the lack of quality education system has hampered dozens of young Ghanaians from achieving set goals in life.
According to him these issues track right back to how children begin their education and that a poor early years education sets children on a path to underachievement at primary and secondary school.
The Akuapem South municipal Cordinating Director, Lydia Akweteh endorsed the initiative and called on the district assemblies to embrace.
She encouraged the beneficiary assemblies to commit financial resources into making the program a success regardless of the financial constraints they may be facing.
She promised to ensure that her district provides spacious and well ventilated classrooms with comfortable facilities for the program to be achieved.
"With regards to the district assemblies, we are ready to support the program. Already Sabre is doing greater part of the work and ours is to ensure that there's spacious classrooms that is well ventilated in order for the children to safe".
Source: Adomonline.com|Adom News|Kofi Siaw