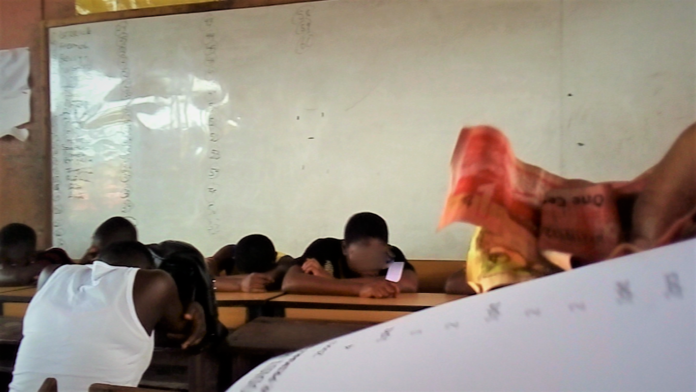 A Corruption Watch (CW) investigation into the Free Compulsory Universal Basic Education (FCUBE) in five regions of the country has found that public basic schools are not free as enshrined in the 1992 Constitution.
CW found in the five regions: Greater Accra, Central, Eastern, Ashanti and Upper East – that, some basic schools charged illegal fees such as toilet fee, gateman fee, water bill and development levy.
Other unapproved payments were maintenance levy, arts and culture fee, report card fee, kindergarten construction fee, furniture fee, exam fee and extra-classes fee.
At a time when Senior High School (SHS) education is expected to be completely free, duty bearers have failed to ensure that basic education, which supplies the SHSs with products, is completely free for those it's meant for, the poor and less-privileged.
The CW investigation found that receipts were not issued for these charges as the platform had been created for daily collections directly from pupils like 'susu' (daily collection of money) where parents don't have to visit the schools to pay.
CW also found that although a Ghana Education Service (GES) directive had put all Parent and Teacher Association (PTA) activities and payments on hold, that directive was not adhered to in the schools.
In follow-up  interviews with the  the school heads to explain their reasons for flouting GES rules, they gave off-the-record reasons saying  they were not allowed to speak with the media per GES rules. For that reason, names of school authorities spoken to have been withheld.
Misleading parents
The investigations found that a common way of extorting money from parents was charging what they described as levies and not fees: "We don't charge school fees here; it is free but they only have to pay for a few levies that's all."
All charges recorded by CW was acknowledged by the schools' authorities as levies and not fees.
Greater Accra
In the Greater Accra region, CW team posed as parents seeking admission in randomly selected schools and found that basic education was not free in any of the schools visited.
The randomly selected schools were La Wireless Cluster of Schools located at Labadi Wireless, La Nkwantanan Cluster of Schools from 1-8 and Redco Basic Schools.
Others were presidential cluster of schools, namely, John Dramani Mahama Basic School, Barrack Obama Basic School and Atta Mills Basic School located at Mamprobi and finally to the Bethesda Methodist Basic School located at Dansoman Last Stop.
In these schools, fees paid by pupils were toilet fee, gateman fee, construction fee, exam fee and levies.
Others were development fee, water bill, maintenance fee, culture fee, extra classes fee and admission fees among others.
La Wireless
This school is located at Labadi Wireless in the La Dadekotopon Municipality. The pupils are made to pay a flat rate of GH¢45.00 each at the primary school level, while at the Junior High School level pupils pay GH¢55.00 each for each term out of which GH¢5.00 is meant for water bill and the rest spread to cover PTA, maintenance, toilet fee (sanitation fee), exam fee, culture and extra-classes fee.
Presidential Cluster of Schools
Pupils in these three schools pay similar fees which include GH1¢1.00 daily as classes fee for lower primary, GH¢1.50 for upper primary and GH¢2.00 daily for JHS as classes fee. In total, lower primary pupils pay over GH¢60.00, upper primary over GH¢90.00 and JHS over GH¢120.00 as classes fee alone each term. The figures go up if a particular term has four months.
Aside the classes fee, primary schools pay GH¢10.00 and JHS pupils pay GH¢12.00 as maintenance fees each term.
They also pay PTA dues, report card fee, mid-term exam fee, sports and culture fees among others.
The schools' authorities conceded charging the fees but justified that the fees were normal charges in all schools under Accra Metro and they have a letter to that effect from their education office.
Bethesda Methodist School
This school is located at Dansoman Last Stop in the Ablekuma West Municipal Assembly. In this school, CW gathered that parents were made to pay GH¢21.00 as maintenance levy and GH¢1.00 from each pupil as classes fees each day. A total of over GH¢66.00 each term, was thus charged, without the issuance of receipts. The pupils also paid GH¢1.00 as report card fees and are caned in default.
La Nkwantanang
This school is located at Madina in the La Nkwantanang Municipal Assembly. The compound houses four different schools which fees vary. The schools are La Nkwantanang 7&8, 1&2, 5&6 and Redco Basic Schools. Pupils in these schools were charged up to GH¢150.00 as first admission fee.
On a term basis, pupils were charged from GH¢45.00 to GH¢75.00. The slight difference in the charge was influenced by the supposed needs of each school. For instance, while Redco charged pupils GH¢50.00 for furniture, La Nkwantanang 7&8 charged pupils for the construction of their kindergarten block. In addition to these two charges, pupils were charged for similar things.
A breakdown of the fees is thus: Construction of kindergarten GH¢15.00, extra-classes fee of GH¢20.00 for primary and GH¢30.00 for junior high, a monthly toilet fee of GH¢5.00, gateman fee of GH¢2.00 each, exam fee and desk fee among others.
At 7&8, for instance, pupils were charged over GH¢75.00 a term, which covers classes fee GH¢30.00, PTA levy GH¢15.00, KG building construction GH¢15.00, toilet fee GH¢5.00, gateman fee and a development fee GH¢10.00.
The schools' authority acknowledged the charges but said the current Director of Basic Education at GES national was aware. They said they had written to the Municipal Directorate several times without results, wrote to many institutions including GCB, Airtel Tigo and MTN for support, but had no help so they had to bring the parents in to bear the cost.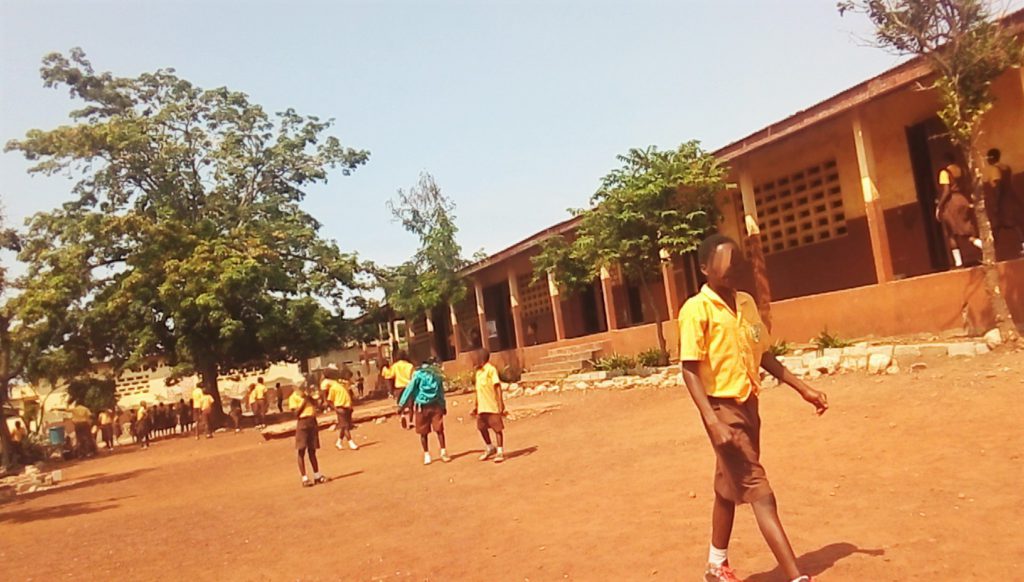 Central Region
In the Central Region, CW visited the AME Zion JHS and Awutu D/A JHS, both in Awutu Breku in the Awutu Senya East District of the Central region.
AME Zion JHS
At the AME Zion JHS, CW gathered that pupils were charged GH¢1.00 each as extra-classes fee each day which was an approximate total of GH¢66.00 per pupil each term.
Registration fee of GH¢20.00 and Zion Founders' fee of GH¢10.00 were also charged.
Awutu D/A Basic School
At the Awutu D/A Basic School, parents were charged admission fee and PTA dues of GH¢20.00, as well as a furniture fee of GH¢30.00 per child.
When the school was contacted, the authorities said their reason for charging furniture fee was that they used metal chairs, many of which were broken, hence parents were expected to order for one to be manufactured for their wards to bring to school or provide the money to the school to acquire the chair on their behalf.
Upper East region
Kulbia Primary School
The school is located in the Bolgatanga Municipality.  The fees paid by each pupil included a PTA levy of GH¢5.00, a furniture fee of GH¢10.00, an examination fee of GH¢4.00 and a water bill of GH¢1.50p. They were not given receipt for payments.
CW spoke to some pupils of the school and gathered that pupils who failed to pay the water bill were prohibited from drinking water and taking part in the free meals provided under the Ghana School Feeding Programme.
Failure of a pupil to pay the mandatory furniture fee left the pupil taking part in classroom activities on the bear floor of the classrooms.
According to the authorities of the school, those charges were necessitated because help wasn't coming from the government and the PTA agreed to pay. According to them, their education office was aware of the challenges in the school.
Anafobiisi Junior High School
The school is situated in the Bongo District. Here, the pupils paid GH¢5.00 each to remunerate teacher trainees posted to the school for their teaching practice. They also paid GH¢6.50p each as examination fee. Those who failed to pay the fees were barred from sitting examinations conducted by the school's authorities.
When the school was contacted, they acknowledged taking those monies from pupils but blamed their decision on delay in receiving their Capitation Grant.
The authorities said they had not received their Capitation Grants as at July 25, 2019, hence the PTA agreed to pay for the exam fee which they paid to class teachers for the exam they had written.
Akantome Primary School
This school is located in the Bolgatanga Municipality. The pupils paid GH¢4.00 each at a just-ended term as exam fee. They also paid a PTA levy of GH¢5.00 every term.
The school authorities said the charges were necessitated due to failure of their municipal office to provide them with furniture.
The Upper East Regional Minister later provided the school with 70 desks.
Ashanti region
In the Ashanti region, CW visited the Domeabra Basic School in the Ejisu Municipality. Pupils were charged for PTA and watchman (security) fee. New admissions were charged project fee.
Pupils were charged GH¢6.00 each as exam fee. Pupils paid GH¢1.00 each month to pay the security men of the school.
When the school was contacted, the authorities said the Ejusu Juaben schools had not received their Capitation Grant and not even the one that was to finance the examination to avoid the payment of exam fee by parents had been paid.
The school said the charges were arrived at following the directive of the chief of their community, Nana Kusi Adu Obeng I, to acquire the services of a security man to protect the school after reporting a break-in. According to the school, the education office was aware of the charge. The paid PTA dues as well.
Eastern region
CW visited the Adawaso Roman Catholic Basic School and Presbyterian School at Adawa, a farming community in Akuapem North. They were charged PTA, sports fee and printing fee totaling GH¢20.00 per pupil each term.
Despite the directive by GES to stop the collection of PTA levy, the head teacher of Adawaso Presbyterian Basic School, Isaac Adjei on Wednesday July 24, 2019 during a graduation ceremony for kindergarten pupils called on parents to be willing to pay levies charged to support the running of the school. This, he said, was because the government's support was not forthcoming and if did came it was inadequate.
Nana Kwaku Boateng 'B' Basic School
Information gathered at the Nana Kwaku Boateng 'B' Basic School in the New Juaben South Municipality revealed that 18 teachers were transferred effective February 1, 2019 including the head, following a letter written to the New Juaben Municipal Education Directorate by the New Juaben Traditional Council which complained of happenings in the school and requested transfers.
The Council's investigations found that the head teacher and another teacher were selling textbooks to pupils, collecting extra-classes fee, offertory, GH¢ 5.00 per pupil in the name of the Municipal Education Office towards sports and culture and GH¢9.00 which was being charged towards the construction of a KVIP for the kindergarten pupils.
Reacting to this, the head teacher, Rose Addo, justified the charges and said she sold the books because the school didn't have study materials.
She said the monies charged were approved by the PTA which were used to develop the school.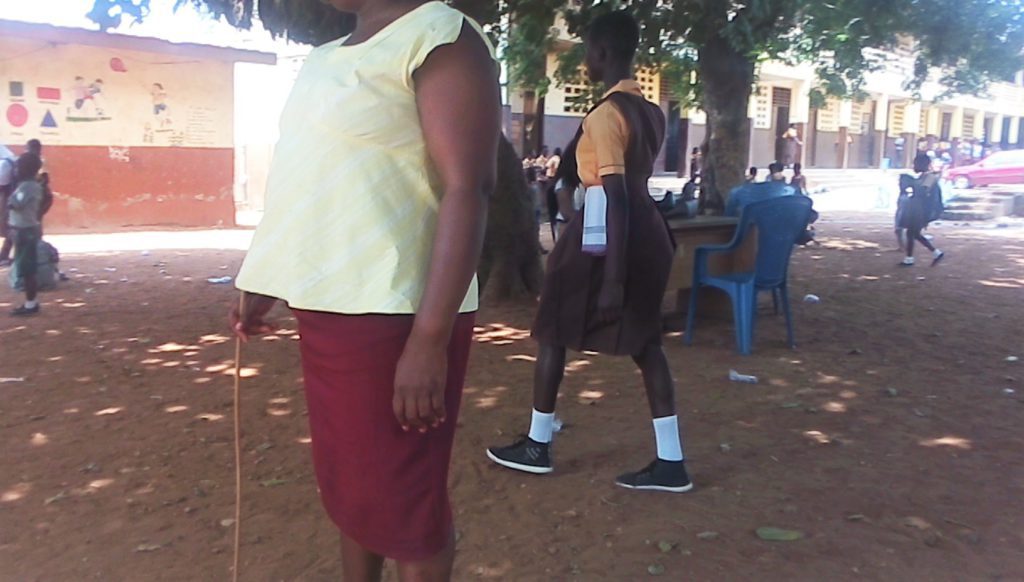 Reaction of GES
When CW contacted GES on the subject, the Public Relations Officer (PRO) of the GES, Cassandra Twum Ampofo said the FCUBE status remained the same and parents were not supposed to pay any amount of money for any reason.
According to her, those items CW investigations found were being levied had actually been catered for in the Capitation Grant given to every school.
She added although the Capitation Grant sometimes delayed, the heads were not allowed to transfer the provision of those items and services to the pupils through their parents. Rather, school managers were supposed to build relationships with suppliers so that they could secure the things they need and pay when they receive their grant.
"Suppliers are always mostly ready to support state institutions in such transactions. It is common knowledge that institutions on daily basis visit state institutions to offer them goods and services on credit just because they are government workers, hence getting a partnership with a supplier shouldn't be difficult for any head," she added.
GES issued a directive to all public basic schools in the country to put a hold on all PTA activities and charges following findings that PTA was being exploited to charge fees not approved by GES.
According to her, furniture supply is the sole responsibility of the government. She added that schools like all state institutions have the provision to employ non-teaching staff, a gateman (security man) falls under that category, hence schools that require the services of a gateman are required to make that known to GES for them to be provided with one and that person is placed on a government payroll.
Capitation Grant
The Capitation Grant is provided to public basic schools through their District GES directorate by the Ministry of Finance for management of schools.
Per the GES regulations, the Capitation Grant covers Sports, Culture, Examination fee, First aide, Utilities, Minor repairs, BECE expenses and SPAM (School performance Appraiser Meeting).
Source: Adomonline.com | Corruption Watch, Ghana | Francisca Enchill