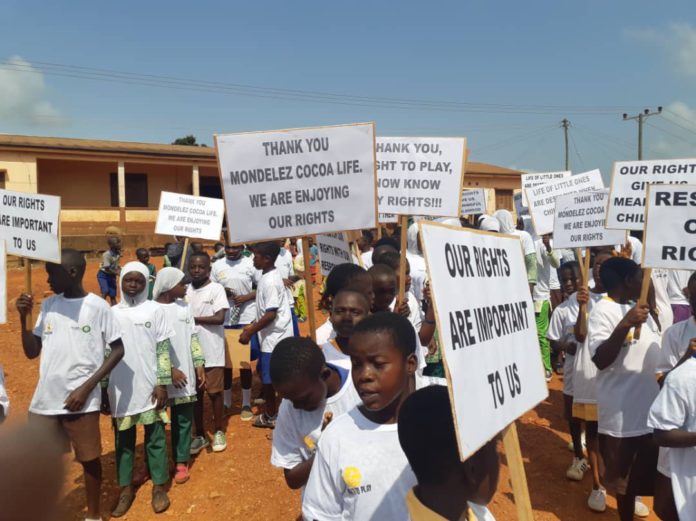 The Domestic Violence and Victim Support Unit (DOVVSU) in the Ahafo Ano District of the Ashanti Region says it is working to eradicate all forms of abuse against children.
Divisional Crime Officer, Superintendent J. K. Adotey has revealed the Unit is after a man who allegedly impregnated his own daughter at Mankranso.
He disclosed the girl reportedly between the ages of 12 and 17 is pregnant and unable to walk.
Superintendent Adotey made this revelation at a ceremony organised by Right To Play Ghana to mark the World Children's Day at Mamfo.
He used the opportunity to charged parents to report any act of abuse meted out to their children or any children within the community.
On her part, the District Chief Executive of Ahafo Ano District of the Ashanti Region has challenged parents to work hard to root out issues of child labour and abuse in the society.
Martina Appiah-Nyantakyi said the government's agenda of providing a brighter future for Ghana's children cannot be complete if parents do not put an end to all forms of child labour.
'I sometimes meet children selling in the market and when you interview them they tell you their parents asked them to go and sell rather than going to school. This is not good,' she lamented.
'Thanks to the government's Free senior high school educational policy, the children can be whatever they dream and parents no longer have an excuse to keep these children home,' she said.
Speaking on behalf of the Ghana Country Director of Right To Play, Josephine Mukakalisa, Project Officer, Julius Tsatsu said the organisation has succeeded in reducing issues of child labour and abuse in the communities they operate by working with the various Community Child Protection Committees (CCPCs).
"We have empowered the CCPCs in collaboration with World Vision to work hard in ending all forms of abuse and child labour," he said.
Mr Tsatsu said Right To Play Ghana has also facilitated the setting up of Children's Club to educate pupils and community members about their rights and obligations.
He was emphatic the global organisation will work with Ghana Government and other partners to bolster the confidence of Ghanaian children.