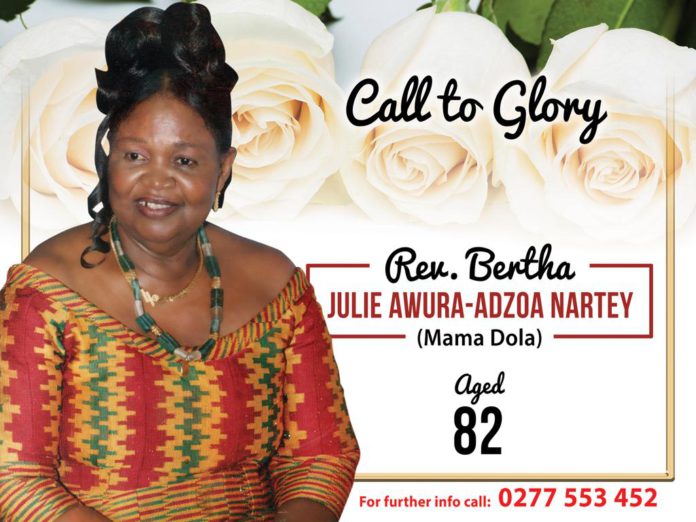 FUNERAL ANNOUNCEMENTS
Nene Tetteh Afutu Nartey III, Chief of Afienya( Prampram), Numo S.B Azina-Nartey (Head of Azina-Teye-Wem and Wetsotse of Kley Aboroo), Numo S.K Nartey( Head of Salem House) ,Woliatse Tettey Nartey III, GP CAPT J.B.T Nartey (RTD) Kelly special advisor, Setse Nartey IV, Numo Diaz N.Nartey (Head of Afutu-Wem) Woi Stephen Tetter Nartey( Head of Steel-Wem), Numo Nicholas T.Nartey (Head of Afutu-Wem), Numo Johnathan Tetteh Frye ( Head of Fyre-Wem), Numo S.T Nartey( Head of Kley Osu-Wem) Daniel Teye Nartey, Kinsman AK Nartey( Secretary Azina-Teye Wem). Torgbi Assafotse Agbodrafor (TOGO).
Rev. Bertha Julie Awura-Adzoa Nartey Aged: 82
FUNERAL ARRANGEMENTS IS AS FOLLOWS
Friday 11th October 2019: No wake keeping (Strictly Family Gathering) Community 19.
Saturday 12th October 2019: Burial and thanksgiving service, Action Chapel International (Spintex)
Time: 7:30 am (Pre-Burial), 8:30 am (Burial Service)
Interment: Private Burial
Attire: White and Black
Children: Selasi Edith Okudzeto (U.k), Mawuli Kofi Okudzeto (MKO, GH), Mrs Jennifer Dzifa Okudzeto Ohrt.
Grandchildren: 10
All Friends And Sympathizers Are Cordially Invited.