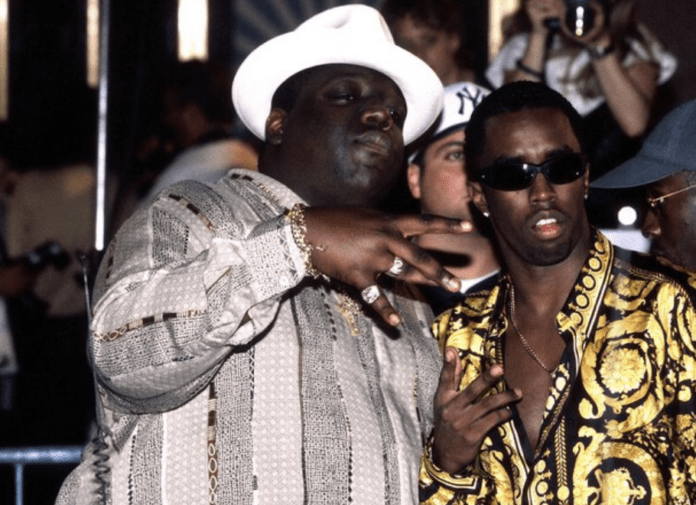 American renowned rapper and producer, Diddy is beyond excited that his friend and former artist, the Notorious B.I.G., will be inducted into the Rock and Roll Hall of Fame.
In an Instagram video he shared his excitement about the induction.
He said, "Whew! Ayo I wanna share this special moment, special announcement with y'all. Biggie you did it! You did it motherf**ker! Yeah! The Notorious BIG is going to be inducted into the rock and roll muthaf**king hall of fame. What the f**k! What the f**k! Love! We miss you king. New York stand up! Brooklyn, yeah!" While Diddy was screaming into the camera, he had Biggie's hit record "Juicy" playing in the background.
Celebrities hit up Diddy's comments to show love to the news of Biggie getting inducted. A$AP Rocky posted emojis and T.I. posted four crown emojis.
Earlier today (Jan. 15), Biggie's mom Viola Wallace also shared her excitement about the induction on Instagram. She wrote, "Brooklyn we did it!!! This is so long overdue," she wrote. "Thank you to everyone that helped make this happen for Christopher. Love you all."
Artists are eligible for induction 25 years after the release of their debut record. Biggie's first studio album Ready to Die came outin 1994. He became eligible for induction last year. The "Big Poppa" rapper was nominated back in October alongside Dave Matthews Band, Pat Benatar, Depeche Mode, The Doobie Brothers, Judas Priest, MC5, Motörhead, Nine Inch Nails, Rufus featuring Chaka Khan, Todd Rundgren, Soundgarden, T. Rex and Thin Lizzy.
This May, Biggie will be joined by the late Whitney Houston and rock bands Depeche Mode, The Doobie Brothers, Nine Inch Nails and T-Rex.
The 35th annual Rock & Roll Hall of Fame Induction Ceremony will take place on May 2 at the Public Auditorium in Cleveland. The showing will be televised live for the first time on HBO at 8 p.m. EST. Tickets for the induction ceremony go on sale Feb. 27. The performers for the event have not yet been announced.