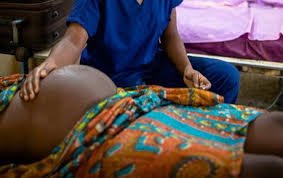 A 42-year-old identified as Hassana Muhammadu, has died after cutting her own stomach with a sharp razor due to intense labour pains.
Daily Independent reports that the incident happened around 8pm on the 27th of January 2019, in Bedi, Bauchi State. Hassana, who was married to Mallam Muhammadu Maikudi, a trader and the union, was blessed with seven children.
READ: Video: Joshua Akamba shows dance moves at 'Aagbe wɔ' demo
According to her husband, :"I got a call from a neighbour that my wife wanted me to come home because she was not feeling well. .
.
When I got home, I met her in intense labour pains, so I decided to call a traditional birth attendant who can assist her with the labour, but my wife insisted that I should call her junior sister who lives nearby to attend to her.
So I went to look for her junior sister who followed me to the house. On getting inside the room, her sister shouted and called me to come to the room.
READ: Audio: I will lead a boycott of 2020 elections if… Opuni-Frimpong warns
When I got into the room, I saw my wife in a pool of blood with her stomach ripped open as result of a sharp razor blade with which she used to cut her stomach open because she was in pains.
My wife later gave up the ghost after being rushed to the Abubakar Tafawa Balewa Hospital, Bauchi."
He expressed sadness over the incident, saying that his wife had been suffering from mental disorders which made her to always isolate herself from people.