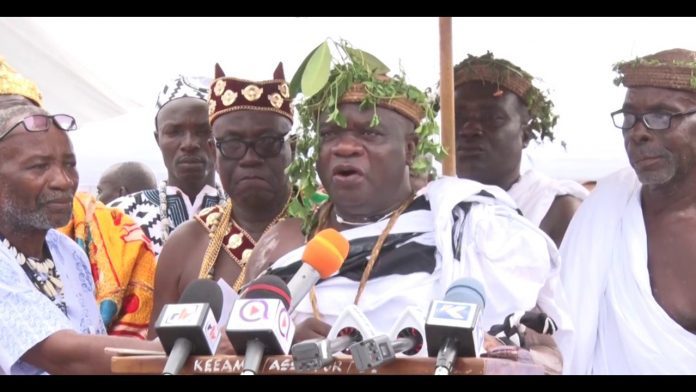 Nana Kodwo Conduah VI, the Paramount Chief of Elmina, has chastised Ghanaians for denigrating the image of the Ghana Police Service by constantly describing its officers as bribe-takers.

According to him, the police officers always help to maintain law and order in the society but due to the dark nature of their uniform if you see them taking monies in any regard, they are simply taking what he describes as 'funeral donations'.

"Police officers do not take bribes….no police officer receives bribe but rather they receive funeral donations because of their black uniform which signifies they are mourning," he said amidst cheers from the crowd during a durbar at the 2019 Bakatue festival.

Nana Kodwo Conduah VI further admonished Ghanaians to desist from such negative tagging of the Ghana Police Service.

The 2019 Edina Bakatue by the people of Elmina in the Central Region is a master show of culture, custom and the best of the African traditional religion.

On Tuesday, July 3, 2019, the members of the Edina royal family participated in a royal procession in the morning which was made up of the chiefs and stool carriers.

The Chiefs were riding in beautifully crafted palanquins which was led by the Paramount Chief of Elmina, Nana Kodwo Conduah VI, adorned in rich traditional regalia as they exhibited their dancing prowess amidst drumming and dancing through the ceremonial streets of the city of ancient civilization in Ghana.

The Chiefs later in the afternoon offered the sacred festival food of eggs and mashed yam mixed with palm oil to Nana Brenya, (the river god) and prayed for peace, abundant fish catch and farm produce.

This was followed by casting of the Omanhene's net which was done thrice to get a catch to signify a bumper harvest and the subsequent firing of muskets to declare an end to the ban on fishing, drumming, funerals and other social activities in the Elmina Traditional Area.

Another attraction was the riding on the lagoon by women wearing rich Kente cloth and local festive headgear (Tekuwa) adorned with a gold tiara as they fired guns to the admiration of all.
The royal procession leading to the chief's palace amidst traditional music ended the colourful event after the traditional priests had offered all the fish caught by the Omanhene's net to the gods as a symbol of appreciation for the harvest.
Source: Ghanaweb