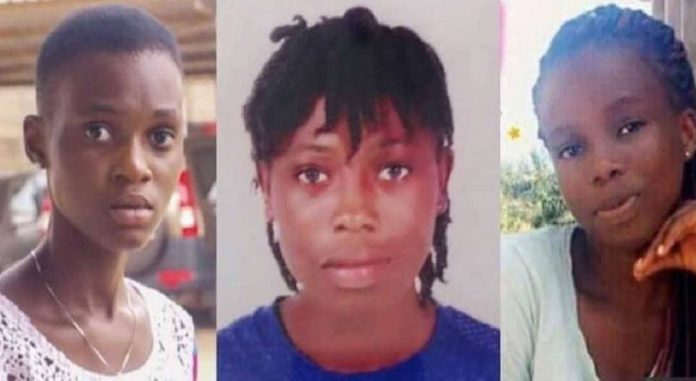 Families of three of the missing Takoradi girls who were declared dead by police are still agitating for the release of the victims' remains after the DNA test.
The families have made an appeal to the Inspector General of Police not to renege on his commitment to release the human parts for an independent DNA test.
A sister to one of the girls, Rebecca Quayson, said apart from being refused the remains, the families have also been refused hard copies of the initial police forensic results that confirmed the deaths of the girls, that had been missing for over a year.
She told Citi News that the families cannot have closure until they independently conduct DNA tests to corroborate or dispute the police report.
ALSO: Committee probing 'sex for grades' to start work next week – Audrey Gadzekpo
"We are not happy because the IGP held a press conference telling Ghanaians that if the family wanted a second opinion, he was ready to release the bones. But it is a different story now."
She said three families went to the Western Region police command and requested for the remains for "a second opinion and maybe burial."
"But they are telling us that it is evidence and they have to keep it and they have to guard it for security reasons and all that," she recounted.
ALSO: Driver remanded for defiling and impregnating minor
Rebecca Quayson thus urged Ghanaians to come to support their demands for the remains insisting that the police "can't bury our girls for us."
"If you trust the work that you have done and you trust the report you have come to tell Ghanaians, what is stopping you for giving us the bones?"
The missing girls were declared dead by police on August 15, 2019.
The victims, Priscilla Bentum, Ryth Love Quayson, Priscilla Mantebea Kuranchie and Ruth Abakah were kidnapped in Takoradi in the Western Region between July and December 2018.
Three of human parts were found in a sewage system in Takoradi near the home of the main suspect in the case.
ALSO: Remain focused, deliver on your mandate – Otumfuo to Akufo-Addo
Police also later found a fourth set of human remains at Nkroful new site at Takoradi as part of their investigations drawing the family of another missing person, Ruth Abakah, into the case.
Samuel Udoetuk-Wills, the main suspect in the case, is already serving an 18-months sentence for escaping from jail after his initial arrest in connection with the kidnappings.
Source: citifm