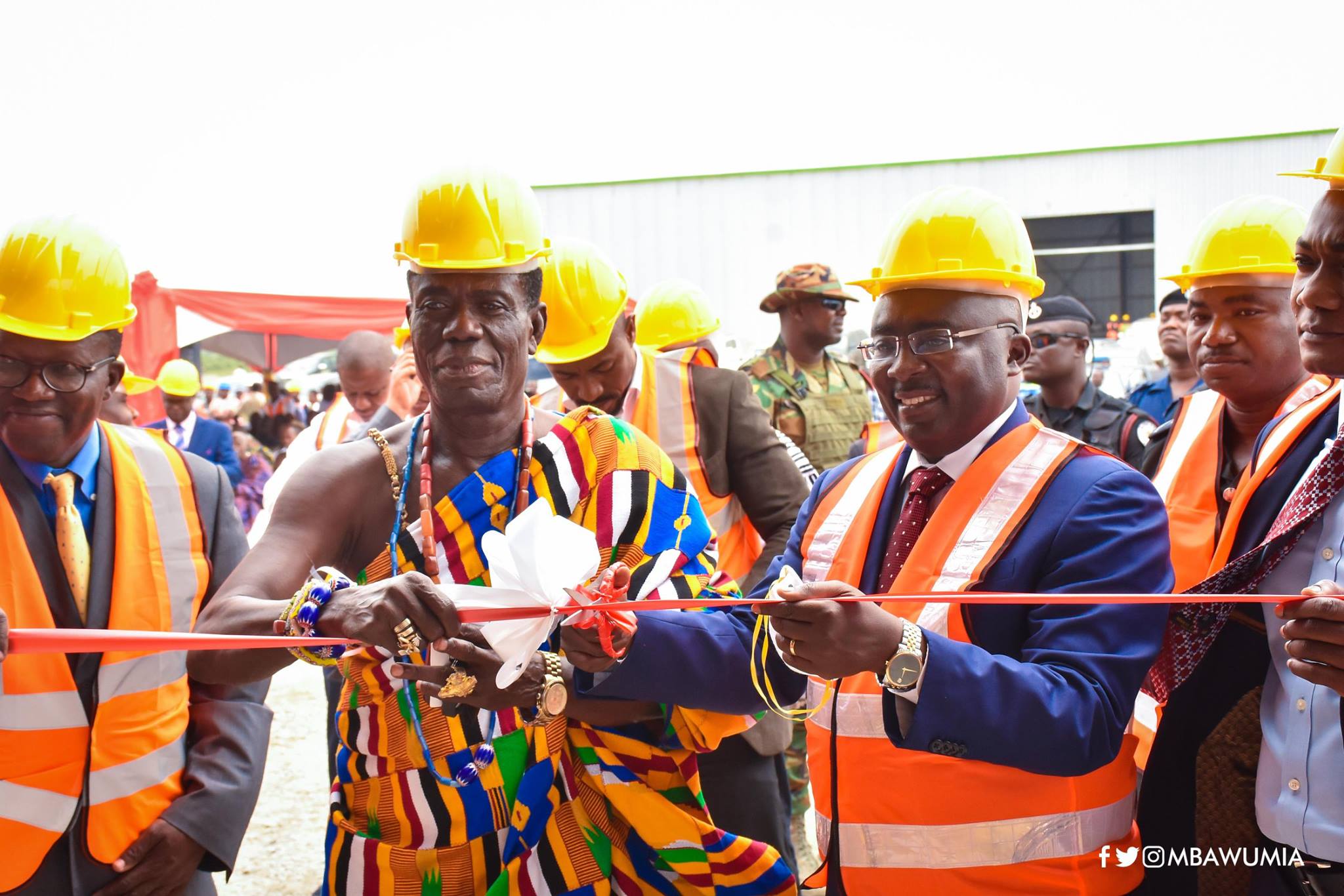 Vice President Dr Mahamudu Bawumia yesterday opened a new plant built by LMI Holdings Limited at Dawa in the Ningo-Prampram District of the Greater Accra Region to produce concrete sleepers.
The new plant, estimated at $8 million with the capacity to produce more than 100 sleepers per day, is expected to help improve the railway sector in the country.
The first state-of the-art sleeper factory in West Africa, which is one of the biggest in Africa, would also ensure the constant supply of sleepers in the country to help government revive the railway sector.
It is believed that the sleeper plant in Ghana will save Ghana $27 million per annum in foreign exchange.
Vice President, who unveiled the New Atlantic Concrete Plant at the Dawa Industrial City Enclave, disclosed that the operations of LMI Holdings were in line with the vision of government to ensure that the private sector operates in a stable environment, which will boost investment and profitability to create jobs for Ghanaians.
According to him, the importance of the railway sector cannot be overemphasized since it contributes significantly to the growth of the economy through the lowering of the cost of transportation to reduce the cost of doing business.
He revealed that government was determine to ensure private participation in the improvement of the railway sector of Ghana to create jobs.
He mentioned that Ghana would not invest in the importation of sleepers into the country and urged the Ghanaian-owned company to improve the quality of their products.
Dr Bawumia revealed that government would continue its agenda to revive the railway industry to ensure smooth transportation in order to boost the economy.
"This is really a company that is on the rise and it's doing marvelously and all these accomplishment of LMI Holdings is just one lesson to all of us and that as Ghanaians, we can really do it.
"We have the capacity, we have the men, we have the women, and we have the entrepreneurs, and if we can only support and provide them the environment the sky is the limit for them," he stated.
He was optimistic the new Dawa Industrial enclave would provide many jobs for Ghanaians.
On his part, the Chief Executive Officer (CEO) of LMI Holdings, Kojo Aduhene, noted that the company has started producing all kinds of railway sleepers in the world to meet European standards, which far exceeds the minimum requirement under the Ghana railway master plan.
According to him, the company would start the construction of railway line from the Tema Port to the Free Zones enclave to help transport tonnes of clinker to the enclave for cement manufacturing companies in the area.
"We also intend to build a 34-kilometer railway link to join the one government intends to construct from the Tema Port to Akosombo to boost the economy.