It was a tense moment at Manhyia Palace on Wednesday as executives of the New Patriotic Party (NPP) went on their knees to apologise to the Asantehene, Otumfuo Osei Tutu II.
The plea for forgiveness follows an outburst by the Asantehene that there are attempts by some people close to government pitch him against the Akyems.
READ ALSO: Galamsey fight: Did you apply sense during your tenure? – Minister asks Mahama
Acting General Secretary, John Boadu and Ashanti Regional Minister, Simon Osei Mensah, party Regional Chairman, Bernard Antwi Boasiako, and Regional Coordinator of the National Disaster Management Organization, Kwabena Senkyire trooped to the Manyhia Palace to prevent the wrath of the revered Ashanti King on the governing party.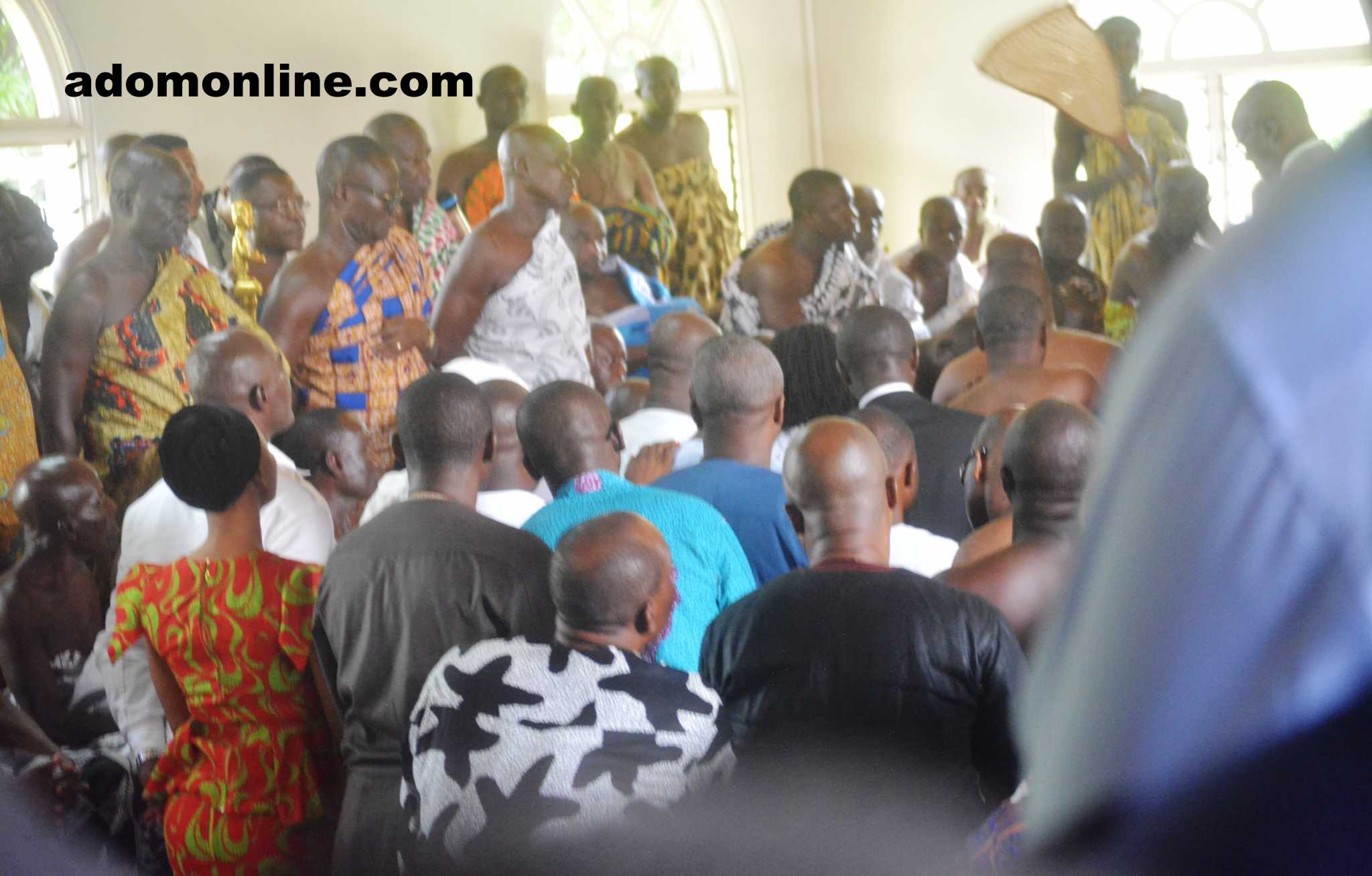 Mr Boadu was also at the Palace to secure Otumfuo's blessing in his bid to secure confirmation as General-Secretary of NPP ahead of the party's national executive elections.
The entourage fell on their knees to assuage the King's anger, praying for clemency at the open court of the Manhyia Palace.
LISTEN: AUDIO: Government injects GHS600 million into NaBCO
Otumfuo's linguist, Baffour Kantankrakyi at this point stepped in to intercede on behalf of the NPP bigwigs who were still on their knees before the King.
"Your own grandchildren. Regional Minister, the Mayor and John Boadu. They say this is a surprise to them.
"As a caring parent, you don't harbour ill-feeling. They are pleading for pardon. Please, forgive them,"  Otumfuo's linguist pleaded on their behalf.
Otumfuo Osei Tutu II was responding to Mr. Boadu's appeal, seeking the King's blessing ahead of the party's National Delegates Conference.
He did not take kindly to what he describes as attempts from some people close to the Presidency who want to denigrate the Golden stool in their attempts to exalt Okyehene's stool.
According to him, he is reliably informed that two officials, (names withheld) have been carrying out nefarious activities with their cohorts hired to bring him down.
He warned such people to be careful in their pursuit since he is aware of their every move.
The Asantehene who appeared visibly angry minced no words during the outburst, which lasted about three minutes.
Shocked at the anger of the Asante Kingdom's overlord, the linguists quickly intervened to calm the situation.
The Ashanti Regional Minister Simon Osei-Mensah led NPP executives into the open court of the Manhyia Palace, where they quickly sought forgiveness for clemency from the Asantehene.
The move, coupled with the linguists' incessant appeal for mercy, was enough to calm down an angered Otumfuo Osei Tutu II, to the relief of the NPP bigwigs.
Nhyira News sources say President Akufo-Addo will soon lead a government delegation to the Manhyia Palace to intervene in the matter.
Ashanti Region has been the electoral 'World Bank' of the ruling New Patriotic Party since 1992.
The party recorded about 1,700,000 votes, representing 75 percent of ballots cast, the highest for all regions, in the 2016 presidential elections