Menzgold CEO, Nana Appiah Mensah, known to many as NAM 1, has virtually devoured JoyNews broadcaster, Israel Laryea, in an Instagram post for leaving Ghana to the UK to investigate his embattled company.
JoyNews had made a Facebook post on September 24, 2018, with the caption:
"MENZGOLD GHANA SAGA: JoyNews checks at the UK office of Ghanaian gold dealer, Menzgold shows it does not operate the same business model, which has gotten it into trouble with the Securities and Exchange Commission.
The London office, JoyNews discovered is a rented space in the massive Berkeley Square House block which houses about a thousand or more businesses, mostly seeking short-term leases."
READ ALSO: Menzgold CEO provides documents as proof that he owns his Private Jet [Photo]
 JoyNews Editor, Israel Laryea on a recent trip to the UK reports, the Menzgold London office is also without the usual highly visible displays the company is known for in Ghana."
The post has irked Nana Appiah Mensah, CEO of Menzgold, causing him to take to popular photo-sharing app, Instagram to register his displeasure by throwing plain inventive.
This was what NAM 1 posted along with Israel Laryea's photo:
"Hello Israel Laryea, today I celebrate your stupidity and retarded mindedness. Set up a provision store today in a kiosk and employ just one Ghanaian. That is more than the pursuit of this evil smear campaign agenda. Maybe you need to be reminded, I am a businessman and not a politician. You can't break me! Business is not a thing for the pope. Think about it. God bless you."
READ ALSO: Afia Schwar warns Menzgold boss over GHC4m investment [Video]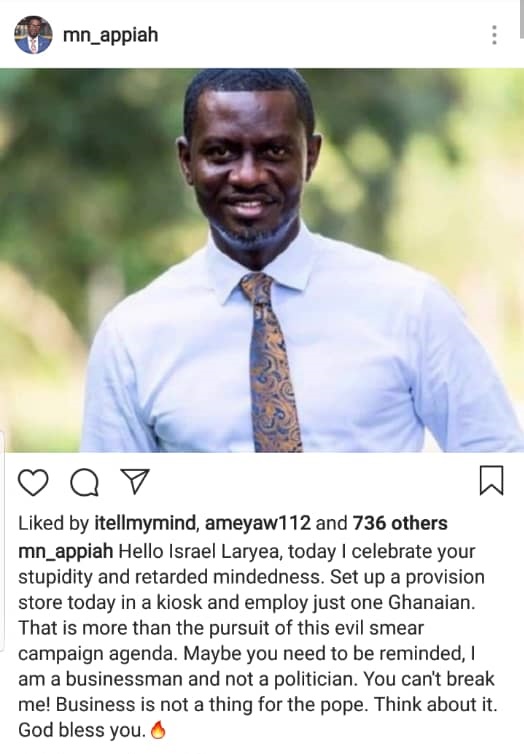 In a typical fashion, the award-winning broadcaster parried the tirade by asking the beleaguered gold-trading CEO to focus on managing the crisis he is going through rather than raining insults on him for doing his work as a journalist.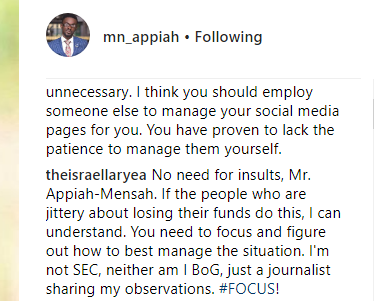 It is important to recall, however, Nana Appiah Mensah sometime back posted a photo on his Instagram handle, indicating that Menzgold UK had been established.
The post may have let to Israel Laryea's checks as every journalist would do under the circumstance.
NAM 1 has since deleted his tweet for reasons that are not too clear yet.
ALSO READ: Angry customer threatens to lead class-action suit against Menzgold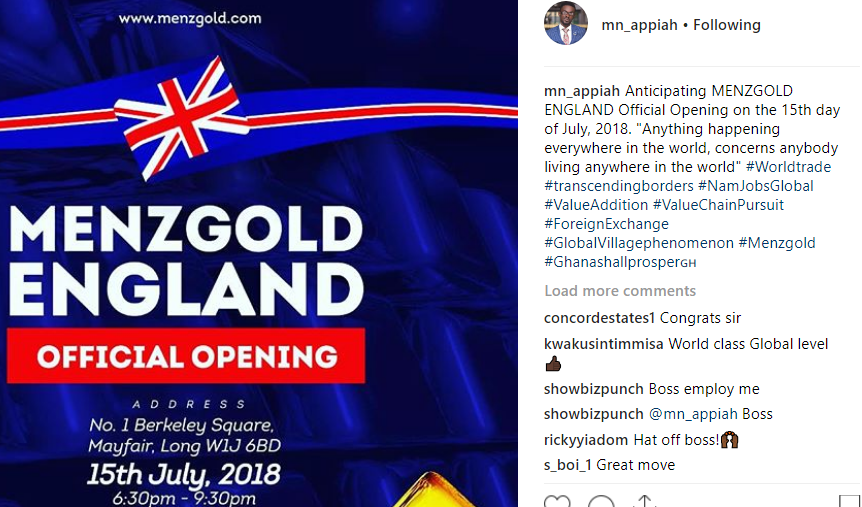 So far, opinions are divided on Mr Laryea's work with many commenting on the issue, some of which are captured below:
READ ALSO: Seven state institutions crushing Menzgold