Residents in Takoradi have been tense in recent months following the kidnapping of seven teenage girls in the regional capital.
The Police has so far managed to arrest one suspect, identified as Samuel Wilson Udoterg, but have not been able to extract much from him.
Speaking on Joy News, DCOP Dedzo said the Police had tried all they could but the suspect has simply refused to talk.
READ ALSO: Attempt to kidnap two school girls in Takoradi foiled
Below is a timeline recollection of the kidnappings that have rocked Sekondi-Takoradi.
1. August 15, 2018 
The first incident happened on Wednesday, August 15, when a 16-year-old senior high school student was kidnapped about a hundred meters from her house at New Site in Takoradi.
The girl who was abandoned the next day close to her house has been rendered dumb, possibly traumatized by her ordeal.
READ ALSO: PHOTO: Man stabs and kills brother over goat, dog meat
2. August 17, 2018 
A 21-year-old lady was also kidnapped at Nkroful junction, also in the Sekondi-Takoradi metropolis.
Her father said his daughter called him that day, August 17, 2018, sounding very agitated and screaming "dad" repeatedly, after which the line dropped and the phone was put off.
The kidnappers later got in touch with a ransom demand.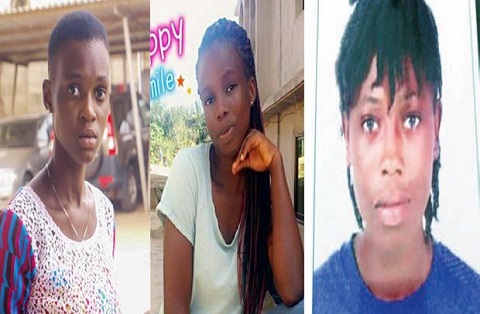 READ: US warns its citizens in Ghana against romance scams
3. November 14, 2018 
The kidnapping attempt this time was foiled. A teacher of the Donewell Methodist Academy in Effiekuma, Florence Ekua Egyir, recounting the incident said the attempt was made on girls aged 3 between 8.
Egyir said they were on their way to school in the company of their 11-year-old sister, on Wednesday, November 14 when the unidentified woman hatched, albeit failed attempt, to kidnap them.
4. December 4, 2018 
A group of unidentified men who posed as workers of mobile telecom giant, MTN Ghana, kidnapped an 18-year-old lady in Takoradi.
The men were said to have advertised a supposed job opening at MTN Ghana in a WhatsApp group and encouraged interested persons to call a contact provided in the advertisement to apply for the job.
READ ALSO: Accusing Ken Agyapong of Ahmed's murder unfair – Expert
5. December 21, 2018 
Priscilla Mantebea Koranchie, a 15-year-old girl was believed to be one of the people to have been kidnapped in Sekondi-Takoradi.
The victim, a first-year student of Sekondi College in the Western Region, was said to have disappeared on December 21. She has not been found and her parents have launched a search party.