Embattled gold dealership during its days of glory received several endorsements from some of Ghana's biggest entertainment personalities.
The celebrities, from music to entertainment, were either appointed ambassadors or publicly declared their endorsement of the company.
Currently, a court has issued a warrant for the arrest of Menzgold CEO Nana Appiah Mensah, popularly known as NAM1, who is accused of defrauding by false pretence and money laundering.
READ ALSO: VIDEO: Zylofon CEO must aspire to be President – Akoo Nana
It comes months after angry customers agitated for the intervention of the state after all their efforts to retrieve their investments failed.
Menzgold has a wide range of clients who found the promise of 7% to 10% interest on their gold collectibles deposited with the company, despite regular warnings from regulators not to do business with the company.
ALSO READ: Vybrant Faya was hidden for 6 months over death prophecy – Manager
The customers are said to include bankers, small-scale miners, top military and police officers, clergymen and women and Ghanaians living abroad.
During its lifespan as a gold dealership company, known celebrities including Okyeame Kwame, Becca, Joselyn Dumas, Jackie Appiah and Stonebwoy were seen on posters and billboards as ambassadors of the company.
After the Securities and Exchange Commission (SEC) directed Menzgold to shut down its operations in September 2018, a number of personalities publicly declared their support for the company and its owner.
Rapper Sarkodie declaring support for the company in a tweet said: "One man doing the most for our beloved country 🇬🇭🇬🇭🇬🇭 knowing him personally he genuinely cares about the country's progress … might not know the ins and outs but one thing is for sure – the Nam1 mission is for a better Ghana 🙏🏾 Bless @mn_appiah".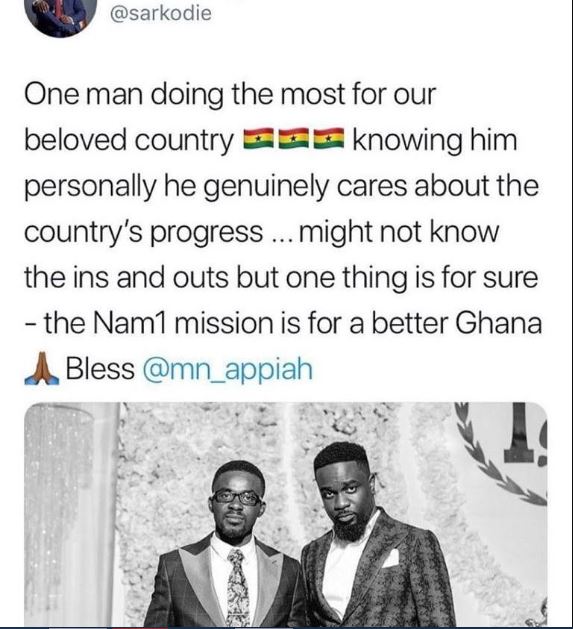 The rapper's wife, Tracey also wrote: "Menzgold doesn't take deposit. They buy gold with the money you give them and work with that gold to give you a return on your investment. Which the last time i checked was around 10%. BOG should rather concentrate on the banks that are misappropriating people's money rather than the ones actually making money for its people."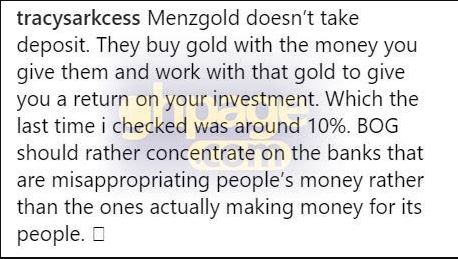 During the heat of the unfolding drama, actress Benedicta Gafah, in a video, assured all customers of Menzgold to remain calm.
Controversial dancehall artiste, Shatta Wale, in his bit to calm the nerves of agitated customers, also announced that he had also invested in Menzgold.
Shatta Wale and Nana Appiah Mensah
Even though he did not disclose how much he had invested in the company, he said, "I'm very much [into investment]. I'm number one, the whole Ghana."
The dancehall act called on the government to dialogue with the management of the gold dealership company a resolution to the impasse.
"It's a problem where government and Menzgold need to sit down and come to an agreement," Shatta Wale said.
Musician Akoo Nana declaring his support for Menzgold warned that if the "witch-hunting" against the gold dealership is not stopped, President Akufo-Addo will lose the 2020 election.
In a video posted on Instagram, the Kasoa-based artiste said: "Anything Ghanaian, we don't want to support it. Bank of Ghana, what is your problem? You said Menzgold has no license, meanwhile, they do. Why are we like that?"
Akoo Nana asked the president to "step into this thing because you gave us your word that you'll make Ghana attractive to investors but look at what is happening. Please stop these people… If they don't stop this, we won't vote for NPP in 2020. You know the work we did for NPP to come to power."
He further advocated the need for Ghanaians to make NAM 1 the president of Ghana in the future.
The musician later led a group calling itself Coalition of Concerned Youth of Ghana (CCYG) to embarked on a demonstration exercise to register their displeasure against the Securities and Exchange Commission (SEC) for ordering Menzgold to shut down its gold vault investment operations.