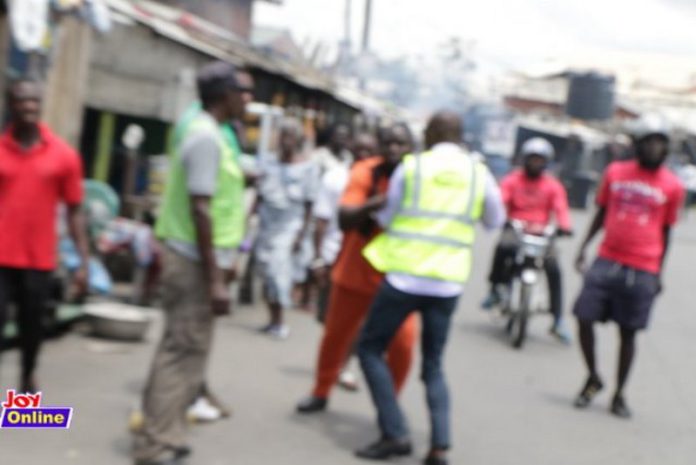 The Jamestown police commander has been explaining why they are yet to arrest the assemblyman who assaulted a JoyNews photojournalist.
Speaking on News Desk, a JoyNews analysis programme, Superintendent Samuel Odame said the "Police did not force an arrest because this is not a case of murder or robbery that at all cost you have to go after him."
He said the police "can arrest or invite" but in this case "we chose to invite him."
Attempts to cover-up a scene of food meant for sale but stored at the same place as a dustbin and public latrine, led to a scuffle, resulting in the brutal assault of the photojournalist, David Andoh.
Mr Andoh was part of the Joy Clean Ghana Campaign team, made up of journalists, security officers, public health officials and sanitation officers.
The team was at Mantse Agbona, a suburb of Accra to ensure that public health and safety were not being compromised in that community.
The exercise which has been incident-free since its inception was met with stiff opposition on Wednesday at Mantse Agbona.
An Assemblyman identified as James Addo (aka Zola) mobilised the community against the team.
Mr David Andoh has lodged a case of assault against the Assemblyman, however, the police say the culprit is yet to honour their invitation.
Explaining the options available to the police since the option of invitation failed, Supt. Samuel Odame said his outfit has secured criminal summons from the court and same has been served on the Assembly.
"Once we invite you to assist in investigations and you decide not to honour it then we have no option than to believe the allegations against you and then proceeds to have criminal summons served on you."
He said should James Addo fail "to make an appearance on Monday [September 16], the next step is to ask the court for a Bench Warrant. Once you decide to disrespect the law the full force of the law will come at you to get you apprehended."
Attacks on Media Freedom
The attacks on Mr Andoh adds to the number of journalists who have suffered attacked recently.
At least 11 journalists have been attacked by security persons and political party supporters since January 2018 and there have been no prosecutions.
Journalists with The Multimedia Group, TV3 Network, Citi FM, Ghanaweb, Ghanaian Times, A1 Radio, Kotoko Express, ModerGhana have all fallen victims.
There have been arbitrary arrests and detention, attacks on media houses, torture, seizure and destruction of media equipment. It makes 31 incidents of attacks and violations on 41 journalists since 2017.
The stand out case, however, remains the murder of an undercover journalist Ahmed Suale with Tiger Eye PI, who was shot in public in February 2019.
It is the first killing of a journalist in over 10 years, the Media Foundation for West Africa has said.
The most recent example is the alleged brutal assault on a ModernGhana editor on June 27, 2019, after national security operatives stormed the online news portal's office in Accra.
The increasing threats and physical assault on journalists have united several media houses in defence of media freedom.
Source: Myjoyonline.com