Forty-one-year-old Ginika Obi, bishop and general overseer of City of Liberation and Comfort International Ministry, located at Kilometer 3, Enugu-Port Harcourt Expressway, Enugu, who is alleged to have defrauded more than 200 people in different states, is now cooling his heels in the custody of the police.
Even his 37-year-old wife, Ezinne Ruth Obi, a pastor, has already been remanded in Enugu prison by a magistrate court after she was arraigned for issuing dud cheques to victims.
The couple's cookie began to crumble when petitions were written to the police command about their alleged fraudulent activities. The Commissioner of Police, Mr. Mohammed Danmallam told
Sunday Sun
that the command received over 50 petitions from people in different states, whom Ginika Obi and his wife had allegedly defrauded.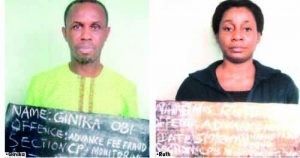 The couple were said to have registered a non-governmental organization (NGO) called, "Build Your Generation Organization," and asked members of the church and the public to invest N7,000

 

in a scheme, with the promise of receiving a double amount in return.
Sunday Sun
gathered that the bubble burst when Chinonso Nweke, a barrister and banker, who is a member of the church in Port Harcourt where it was originally located, brought a petition that Ginika had collected millions of naira from him and other people. He said that the suspect thereafter absconded and relocated with his family.
Following this development, the bank sacked Nweke and he was arrested by operatives of the Department of State Services (DSS) and transferred to the custody of the Akwa Ibom Police Command for investigation and prosecution. He was subsequently charged to court for obtaining money under false pretence and remanded in prison custody for three weeks before he was granted bail. The case is still in court.
In the course of investigating the matter, in response to the petitions sent to it, the police in Enugu learnt about the role played by Ginika's wife, Ruth, and eventually tracked her down to Asaba, where she had allegedly hidden to evade the law.
Giving further insight, Danmallam explained that the Commander, Monitoring Unit of Enugu Police Command, Supol Alkali Uba, moved with his men to Asaba and arrested her on June 26, 2017 and took her back to Enugu.
Ruth was then arraigned in a magistrate court in Enugu on a four count charge for issuing dud cheques, an offence punishable under section 1(1) (b) (i) of the Dishonoured Cheques Act Cap D II Laws of the Federation of Nigeria 2006, and subsequently remanded in prison.
Sunday Sun
further learnt from Danmallam that police detectives arrested Ginika on August 5, 2017 in a hotel along Agbani Road, Enugu, and he has been in custody for alleged advance fee fraud, a crime known in the country as '419' and punishable under section 419 of the Criminal Code.
He disclosed that over 200 people from different states, namely, Enugu, Anambra, Akwa Ibom and Ebonyi had since Ginika's detention at the police headquarters come to lodge more complaints about how he allegedly defrauded them. He said that Ginika never denied the allegations, claiming that he had records of his transactions and promised to pay back the money taken from them.
Meanwhile, the Enugu State Government has demolished the church building in the state. In an interview with
Sunday Sun
, Ginika, who attended Aku Primary School and Boys Secondary School, both in Uli, Anambra State, also had ministerial training at Teamwork Missionary School,

 

Port Harcourt, Rivers State.

 

He worked at Pillar of Life Church and Foundation Faith, both in Port Harcourt in 2002, before establishing his own church.
He said further: "In 2016, I started a non-governmental organization, called Build Your Generation Organization, which was registered with the Corporate Affairs Commission. I have built houses for many people and sent some people to school and paid their school fees since I started the NGO and involved my church members."
Ginika who has six children and hails from Ihiala Local Government Area, Anambra State said that the NGO collapsed in February 2017, resulting in his inability to pay the people who gave him money. He relocated with his family in April 2017. He said that he was having a meeting with members of the board of the NGO at the hotel in Agbani, Enugu, when he was arrested by the police.
"I am now working together with the police to pay back money to the victims. I have a house in Port Harcourt worth N50million and the police know about this. I have another house at Emene in Enugu, valued at N80 million. I promised to pay back soon. I am going to pay back one hundred and eighty-six million naira. I have identified the people who gave me money. I never denied their claims and I promised to pay back their money," he stated
One of the victims and member of the church, Mrs. Mogbo Chidinma told
Sunday Sun
that she paid money to the NGO through the branch of a leading new generation bank located along Kenyatta Road, Enugu.
"I encouraged my friends to also invest in the NGO. Sometimes, I deposited N200,000 into the account; later Bishop Obi said we should be paying the money directly to him or his wife or the cashier in the church. In January and February 2017, I paid N1million to the bishop. I have been beaten in my office and in my house by those I collected their money and I didn't see Bishop Obi. It was when I heard the news that the Enugu State Police Command had arrested him, I immediately I came here. He has promised to pay back." she said.
Meanwhile, the police boss said that investigation into the case would continue.