Former South African athlete Oscar Pistorius has been hurt in a prison brawl, less than two weeks after his sentence for the killing of girlfriend Reeva Steenkamp was more than doubled.
The disgraced Paralympian was allegedly involved in a fight over the use of a public phone, a prison department spokesman told the BBC.
Pistorius, jailed for 13 years and five months, sustained a bruise, he added.
No other serious injuries were reported, the spokesman said.
"It is alleged that he was involved in an altercation with another inmate over the use of a public phone in the special care unit where both offenders are detained at Attridgeville Correctional Centre," the spokesman, Singabakho Nxumalo, added.
The department has launched an investigation, in terms of standard procedure, to "establish the facts and to ensure that appropriate action is taken as incidents of assaults are not allowed", he said.
The brawl took place on 6 December, 10 days after South African prosecutors successfully argued Pistorius' "shockingly light" six-year sentence should be increased.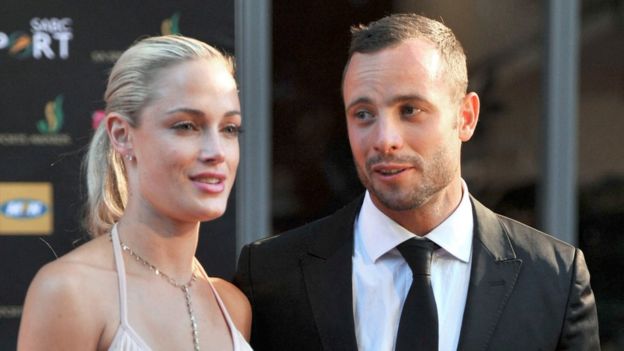 Pistorius shot his girlfriend Reeva Steenkamp on Valentine's Day  2013
In November, the Supreme Court of Appeal gave Pistorius the minimum 15 years prescribed for murder in South Africa, less time already served.
Pistorius was initially found guilty of manslaughter after he claimed he shot Ms Steenkamp dead through a locked bathroom door having mistaken her for a burglar in the early hours of Valentine's Day in 2013.
But the Supreme Court of Appeal overturned the ruling in 2015, and found him guilty of murder.
The six-time Paralympic gold medallist had made history by becoming the first amputee sprinter to compete at the Olympics, in 2012 in London, running on prosthetic "blades".
He had his legs amputated below the knee as a baby.
Source: BBC