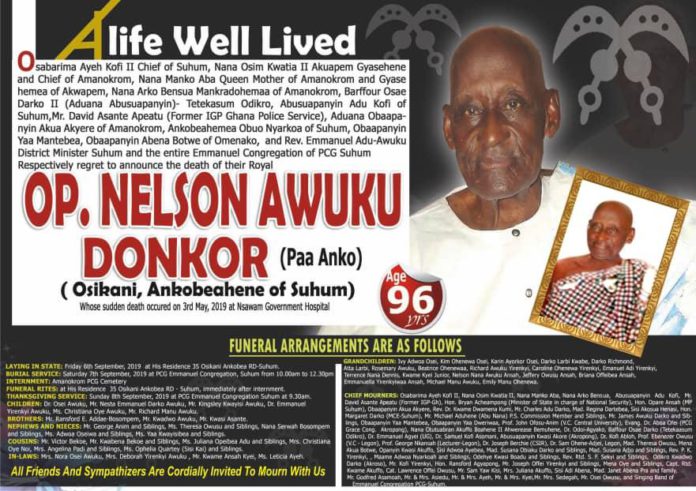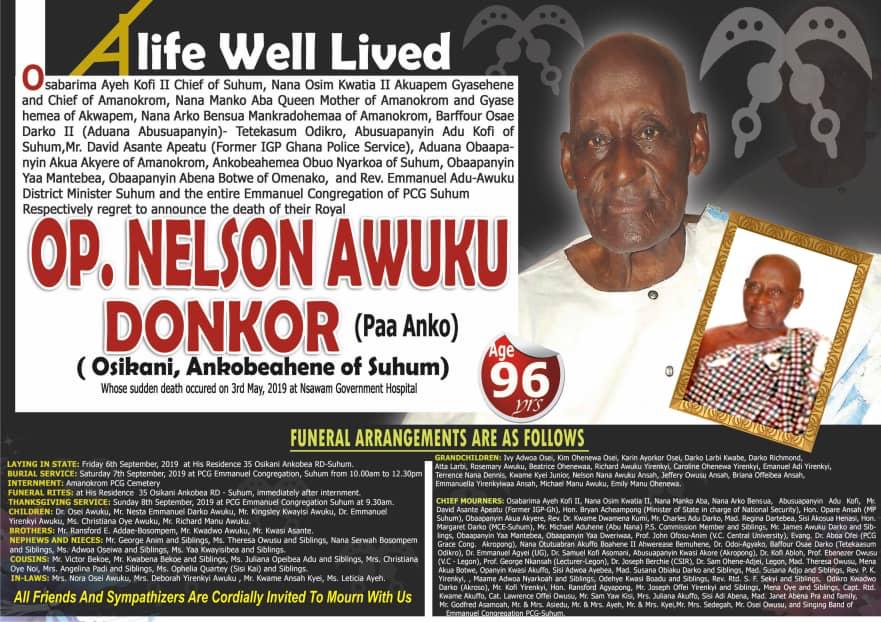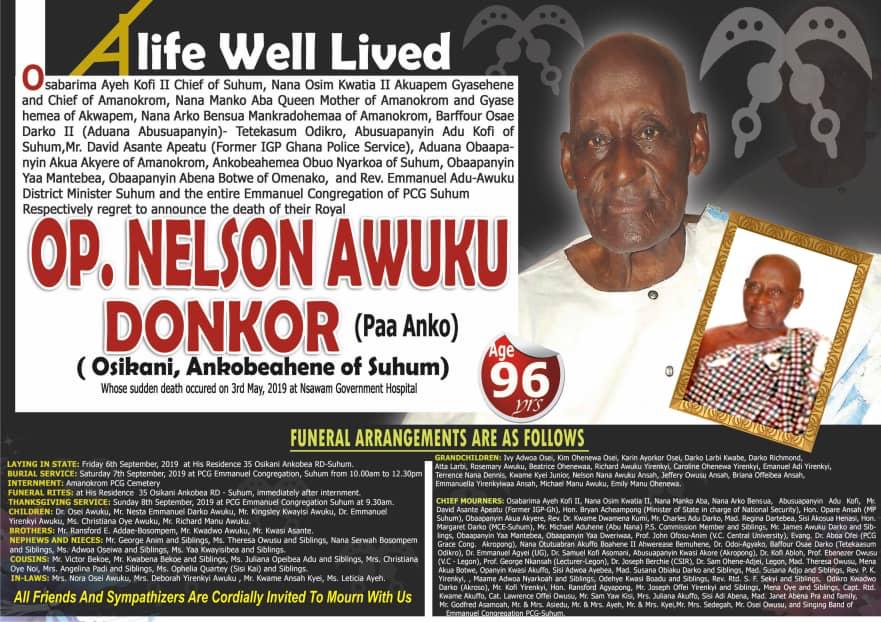 Osabarima Ayeh Kofi II Chief of Suhum, Nana Osim Kwatia II Akuapem Gyasehene and Chief of
Amanokrom, Nana Manko Aba Queen Mother of Amanokrom and Gyasehemea of Akwapem, Nana Arko
Bensua Mankradohemaa of Amanokrom, Baffour Osae Darko II ( Aduana Abusuapanyin ) – Tetekasum
Odikro , Abusuapanyin Adu Kofi of Suhum, Mr. David Apeatu ( Former IGP, Ghana Police Service),
Aduana Obaapanyin Akua Akyere of Amanokrom, Ankobeahemea Obuo Nyarkoa of Suhum, Obaapayin
Yaa Mantebea, Obaapanyin Abena Botwe of Omenako, and Rev. Emmmanuel Adu- Awuku , District
Minister Suhum and the entire Emmanuel Cogregation of PCG Suhum respectively regret to announce
the death of their royal
OP. NELSON AWUKU DONKOR (Paa Anko)
(Osikani, Ankobeahene of Suhum)
Whose sudden death occurred on 3rd May, 2019 at Nsawam Government Hospital
Aged: 96
FUNERAL ARRANGEMENTS ARE AS FOLLOWS
LAYING IN STATE: Friday 6th September, 2019 at his Residence, 35 Osikani Ankobea Rd – Suhum
BURIAL SERVICE: Saturday 7th September, 2019 at PCG Emmanuel Congregation, Suhum from 10:00am
to 12:30pm.
INTERNMENT: Amanokrom PCG Cemetry
FUNERAL RITES: At his residence, 35 Osikani Ankobeahene Rd – Suhum, immediately after internment
THANKSGIVING SERVICE: Sunday, 8th September, 2019 at PCG Emmanuel Congregation, Suhum at
9:30am
CHILDREN: Dr. Osei Awuku, Mr. Nesta Emmanuel Darko Awuku, Mr.Kingsley Kwayisi Awuku, Dr.
Emmanuel Yirenkyi Awuku, Ms. Christiana Oye Awuku, Mr. Richard Manu Awuku.
GRANDCHILDREN: 19
All Friends and Sympathizers Are Cordially Invited To Mourn With Us.