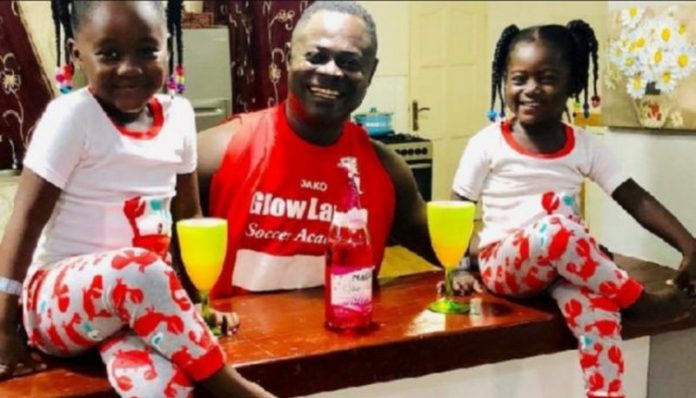 Ex-national footballer, Nii Odartey Lamptey, has said he was in unbearable pain when results of a DNA test proved that he was not the biological father of his three children.
"I thought I was the father but upon rumours that they are not my kids, they said I have to do a DNA," he told Accra-based TV3 in an interview.
The former Aston Villa star said his lawyer showed him "where they do the DNA, I got to know that yes, the kids are not mine."
The football world was in shock when Odartey Lamptey opened up that the three children he raised with ex-wife Gloria Appiah, were not his biological children.
ALSO: Breaking: Abossey Okai spare parts shops gutted by fire
"It all [started] just because I couldn't afford to pay school fees that may be was too much for me at the time – a child is going to school in the UK and the school fees was about £26,000. I thought I have invested all my money and I cannot afford it because they [children] are three and [all will need to follow suit]. So I took a decision to look for a good school [Ashesi University]…and that's what brought all this," he said.
He admitted to hearing rumours about his wife's promiscuity a few years ago but was in the process of investigating when she compounded matters by demanding divorce over the disagreement they had had, over the first child's school fees.

According to Odartey Lamptey, close pals advised him to undertake a DNA test on the kids after obtaining many recordings of his ex-wife and her activities.
ALSO: Lover cuts girl's hand …over 'Chale Wate'

He disclosed that before performing the DNA tests, he visited a medical facility and informed them about his concerns without the knowledge of his ex-wife.
"It was a difficult situation, I was very close to the children and for me to be able to do this, I told them I have an infection in my throat and upon a doctor's advice, I should be able to cure theirs now otherwise, when they grow, they will have problems…," he said.
Together with his doctor, they visited the girls at school and collected the samples.
"He used cotton to take their saliva and put it in a bottle and closed it…after doing it [test] he took it to South Africa to confirm it," he recounted. 
ALSO: Stonebwoy's words to Bukom Banku after UK win
Although it was supposed to take two weeks for him to get the results, it took a month to ensure the result was near perfect.
The one-time Anderlecht star said the DNA test was expensive then because each of them had to pay ¢1200 totalling ¢4800.
Nii Odartey Lamptey said the DNA result was a defining moment for him.
"At that short period, you're finding out that, they are not yours anymore…I don't know the kind of pain any human being can go through more than that," he said.
He said he was happy the test opened his eyes and he trusted it more because his wife then, did not challenge the results.
Odartey Lamptey has since his divorced Gloria Appiah and remarried and been blessed with two girls. 
Source: Myjoyonline.com