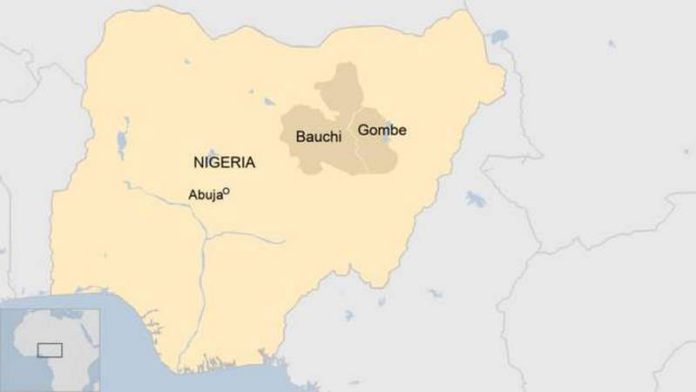 President Muhammadu Buhari has officially kicked off the historic drilling of crude oil in Nigeria's north-east on Tuesday, supervising the first oil extraction in commercial quantities in Bauchi and Gombe states.
"The successful discovery of the Kolmani oil and gas field has finally broken the jinx record by the confirmation of huge commercial deposits of hydrocarbons in Kolmani River fields," the president told an elated gathering of oil company officials and community leaders.
The Kolmani oil wells are expected to have an estimated one billion barrels of crude oil reserve, a development that could make Nigeria earn nearly $73bn (£61bn) over a period of 10 years.
Officials have put Nigerian's crude oil reserves at 37 billion barrels. With an additional one billion barrels and a likelihood of some gas reserves from the Kolmani fields, the country expects to see a boost in its oil and gas production.
Today, I welcomed the President and Commander-in-Chief of the Armed Forces, H.E Muhammadu Buhari, @MBuhari, to flag off the official commencement of oil drilling in the Kolmani Oil Field. pic.twitter.com/MsDWk80dO7

— Senator Bala A. Mohammed (@SenBalaMohammed) November 22, 2022
VIDEO: " We are pleased with the current discovery of over 1 billion barrels of oil reserves and 500 billion cubic feet of gas within the Kolmani area and the huge potential for more deposits as we intensify exploration efforts.- Buhari pic.twitter.com/LMzz0xRql9

— Premium Times (@PremiumTimesng) November 22, 2022