Nyinsen Ne Awo) reality Star, Regina Anim, has named her first child after Adom Fm.
Regina is standing in for all first time mothers on Nyinsen Ne Awo), a radio reality show which airs on Adom FM every Sunday at 8:00 to 9:00 PM.
ALSO READ: PHOTOS: Adom FM donates to Nyinsen Ne awo) model, Regina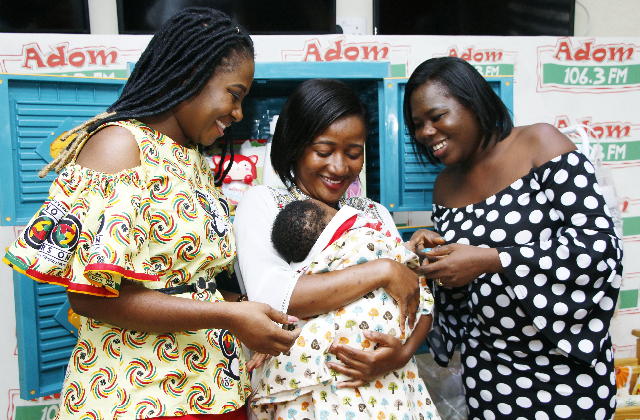 Nyinsen Ne Awo) has followed Regina as a first time mother throughout her pregnancy journey.
Three months after delivery, Regina and her husband, Dickson Boateng, have named their baby boy Brian Blessing Adom Boateng in a colorful ceremony at Christ Faith Overcomers Chapel at Gbawe in the Greater Accra Region.
ALSO READ: Nyinsen Ne Awo) enters the labor ward with Regina
The parents say they chose the name Adom for their baby because of their affiliation with Nyinsen Ne Awo) on Adom Fm and the fact that they have enjoyed God's grace throughout the pregnancy journey.
"We named our baby boy Adom because of the opportunity Adom FM through Nyinsen Ne Awo) has given us and our baby. We are grateful to God and Adom FM and we urge Ghanaians to listen to the programme and it will help them as it is helping us", proud father of the baby said.
ALSO READ: Exclusive breastfeeding reduces risk of infant mortality – Midwife
Nyinsen Ne Awo) is still following Regina and her baby, bringing up to date recordings about how she is caring for the baby after birth and exploring issues in caring for babies at that stage.
This week's topic is "common rashes in babies".