Neymar has held his first press conference as a Paris Saint-Germain player following his £198m move from Barcelona, explaining that he was seeking a "bigger challenge."
The Brazil international ended his four-year stay at Barcelona on Thursday when his €222m release clause was paid in full, with Neymar signing a five-year deal in Paris to become the most expensive player of all time.
His motivation for the move away from Barcelona, breaking up a productive union with Lionel Messi and Luis Suarez, has been the subject of much speculation, with a salary of a reported £520,000 after tax being highlighted.
But Neymar said in a packed press conference that money was not his motivation. Neither was a much-reported desire to step out of Messi's shadow and become the leading star at a club.
Instead, the 25-year-old said that he wanted a bigger challenge than playing for Barcelona could offer. He said:
" I wanted something bigger, a bigger challenge. My heart made the decision and made me follow that ambition and that is why I am here today. I want to dream bigger, to do my best and to do even better."
"No (being the big star) didn't impact at all. I wanted to come to Paris and it is only linked to me wanting to find a new challenge. Not because I didn't feel I was the big star at Barcelona. No, I felt well in Barcelona. That is not what I am looking for in Paris. I think that I have written my chapter at Barcelona, I won some trophies…. Of course you can't make everybody happy.
"I've done nothing bad. It's difficult to answer this question. I'm sad about the facts that the fans think (badly of him), I hope it's only a minority. I never lacked respect to the fans and I think that every player should be allowed to stay or leave a club.


"If I was following the money, I'd be playing for a different team in another country. I was never motivated by money, it has never been my first motivation. I am really sad people think I am motivated by money."
'One of the most difficult decisions'
Neymar said it was a difficult decision to leave his friends and colleagues behind in Barcelona, who were disappointed to lose the player commonly seen as Mess's heir at Camp Nou.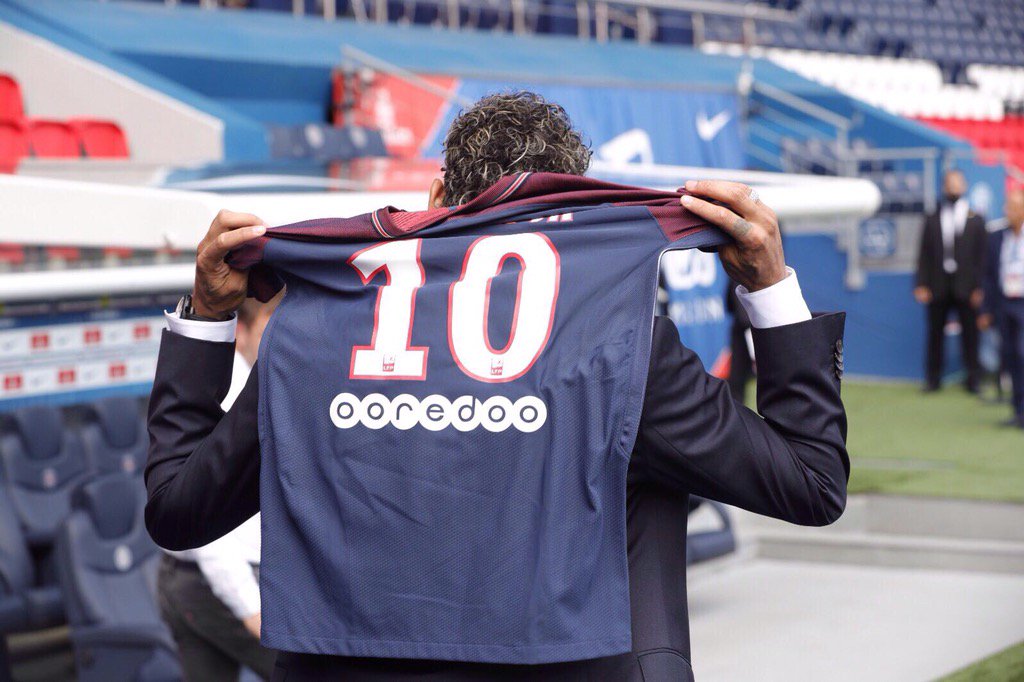 " It was one of the most difficult decisions I've ever taken… I had to think, rethink and think again about what I want to do with my life I leave a lot of very good friends behind. I would like to thank all my friends at Barcelona, they welcomed me so well. But I felt it was the right time."

Al-Khelaifi: I don't think it's expensive

Paris Saint-Germain chairman Nasser Al-Khelaifi was also on stage alongside Neymar and said that PSG felt the transfer fee paid for the Brazilian was far from excessive.

" I don't think it is expensive, I'm sure we are going to make more money. I can guarantee that Neymar did not come for the money. He could get much more money elsewhere than here. The world is going to talk about this transfer for long time. Hopefully positively, he didn't come here for money. Today it is the most expensive, but in two-three years will it be? I'm sure we will make more money than we have paid. We huge been very transparent from one day on Financial Fair Play. We are working under the regulations. For people worrying about Financial Fair Play, go have coffee, there are no problems."

Al-Khelaifi also denied that the pursuit of Neymar was revenge for Barcelona's interest in Marco Verratti, as has been suggested, and hailed the signing of the best player of the world as a key moment for PSG as they target the Champions League along with domestic success.

" Neymar is an idol for the whole world and those who love football and sports. As far as I am concerned Neymar is the best player in the world. Our supporters have always dreamed about Neymar and here he is today with us. With him our project becomes more stronger. Together we are going to create an amazing PSG. "

'I'm ready to play'

Neymar is eligible to play in PSG's season opener against Amiens on Saturday at Parc des Princes and said he was available for coach Unai Emery.

" I am really hungry for football. Yes I am ready, if I can play tomorrow, why not? I will speak with the staff and wait for the green light, but this is what I love to do. Play football."

Neymar operated on the left of Barcelona's front three during his time at Camp Nou but said he had not discussed his role with Emery yet, with Edinson Cavani installed as PSG's central striker at present. "I don't know," he said. "I haven't discussed it with the coach yet. I just want to play."

Al-Khelaifi clarifies release clause issue

There had been speculation that it was Neymar himself who paid his release clause, perhaps with some assistance from Qatar. But PSG chief Al-Khelaifi was adamant it was a club transaction.

" No we bid the buy-out clause, not Neymar, it's us. It's legal between us and Barcelona. "