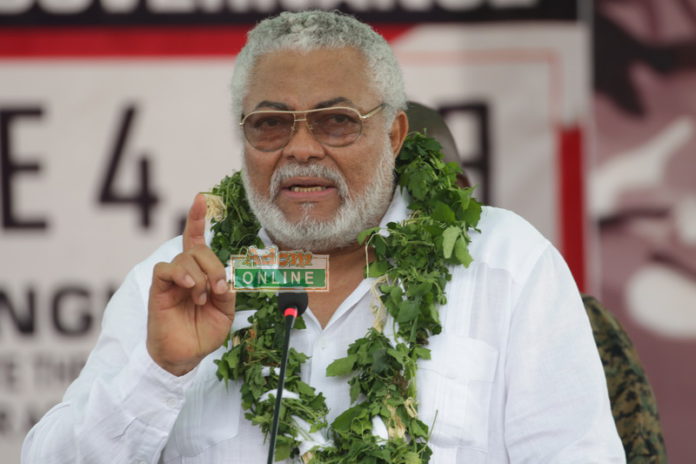 Former President Rawlings says the creation of the Oti Region out of the once Volta Region is due to years of neglect NDC.
He says though some interest groups approached him to speak out on the creation of Oti Region, he was constrained by the reality of deprivation in the area by his own party.
Mr. Rawlings recounted that when the division of the then Volta Region was dawning, some chiefs and people were against it. 
ALSO: Nana B slams Mahama over foiled coup comment
"Some Cadres came to see me about the division that was about to take place, serious-minded people like you to come and see me in this issue obviously expect me to also say something about it."
He said he rather looked them in the face and quizzed them about the level of deprivation there. "They suffered there for almost eight years, didn't you think a politician will take advantage of this situation," Mr. Rawlings quizzed.
"Of course. Yes, that was the reality they all kept quiet throughout. Nobody authored a word. I  did what I could," he added.
ALSO: If your songs brought NPP to power, sing for CPP too – Abronye DC dares A Plus
Mr. Rawlings was addressing the National Cadres Conference in Kumasi, under the theme' "Effective Mobilization and Organisation for Victory 2020: The Role of Cadres''.
Creation of the Oti Region carved out of the then Volta Region generated controversy with some traditional leaders in Akpafu and Lolobi rising against the inclusion of their traditional area.
ALSO: 18-year-old to spend 15 years in prison for robbery
But the proposed region was massively endorsed in a December 24, 2018 referendum with a majority voting "Yes" to pave way for its creation with Dambai as its Regional Capital.
Mr. Rawlings believes neglect of the area was perhaps enough ground for the creation of the new region.
He also talked about monetization of electoral processes in the NDC and admonished the cadres to desist from perpetuating political monetization especially in the upcoming elections.
Source: Ghana I Nhyira FM I Nana Asenso Mensah