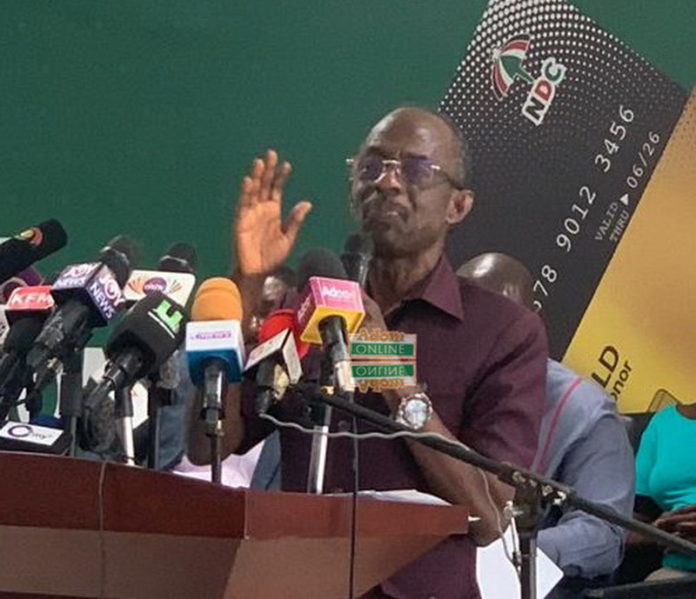 The National Democratic Congress (NDC) has called for the arrest and prosecution of Ghana's Senior Minister, Yaw Osafo-Maafo.
The party's demand, according to its General Secretary, Johnson Asiedu Nketia, is in relation to alleged breaches of the Public Procurement Act in payments Mr Osafo-Maafo made to United Kingdom company, Kroll Associates.
The party made the demand at a press conference organised on Monday, November 25, 2019 at its headquarters.
The call for Mr Osafo-Maafo's arrest comes on the back of the Economic and Organised Crime Office's (EOCO) investigations into alleged breaches of the Public Procurement Act in the purchase of some 32 vehicles for the Audit Service, by the Auditor-General.
According to the NDC, the investigations into Mr Daniel Domelevo's activities by the Akufo-Addo-led government is a calculated attempt to prevent him from mounting pressure on the Senior Minister over his involvement in the $1 million Kroll scandal.
READ ALSO
The Auditor-General surcharged Mr Osafo-Maafo to refund GH¢ 4,869,421.87, the equivalent of $1,031,460.50 being payments to Kroll Associates for no work done in a contract awarded to the company in September 2017.
The NDC believes the Auditor-General is being met with stiff resistance and machinations for his principled stance in exposing corruption in the current administration.
"President Akufo-Addo's witch-hunting of the Auditor-General shows his lack of commitment to fight against corruption involving his family and friends which constitute his government," the NDC said.
The party added that it finds the conduct of EOCO bizarre, as it is comfortable questioning the Auditor-General for breaches of the procurement act but has neglected the same breaches committed by the Senior Minister.