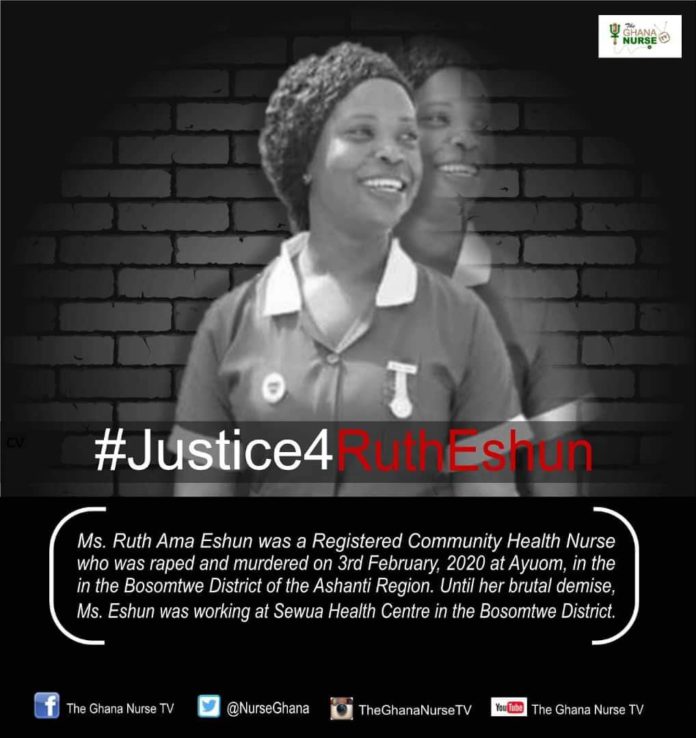 Husband of Ruth Eshun, the nurse who is suspected to have been murdered at Sewua, in the Ashanti Region, has appealed for speedy investigations into the incident.
Kwadwo Arhin, a lecturer at Kumasi campus of Ghana Institute of Management and Public Administration (GIMPA), said the pace of the investigations has been slow.
"I know my wife cannot be brought back, but I will be so happy if the perpetrators are arrested and dealt with according to the law. So I want the investigation to be swift," he said.
Mr. Arhin and Ruth, 37, had been married for 11 years and have three children.
She was found dead a few metres from her house at Sewua in the Bosomtwe District on Tuesday, February 4.
Reports say one person has been arrested in connection with the suspected murder.
A phone found at the scene of the crime was traced to the unidentified suspect.
Disputed narrative
Meanwhile, her family has described as inaccurate, aspect of an account by a witness.
The unnamed witness had told the media after the body of Ruth was discovered that: "Her lifeless body was discovered close to where she stays. You could also see marks of assault on parts of her body suggesting that the deceased may have struggled with her assailants."
But this narrative has been disputed by a relative who insists when the deceased was found, there were no signs of struggle.
"There was no mark, there was nothing like a knife, nothing of that sort was found. She was just lying here," he said.
What he did note was that her underwear had been pulled down, suggesting she had been raped before being killed.
Her colleagues, including the Community Health Nurse Association, after the news of her death, took to social media with the hashtag Justice4RuthEshun (using her maiden name) to condemn the act meted out to the public servant while demanding the perpetrators be brought to face the law.