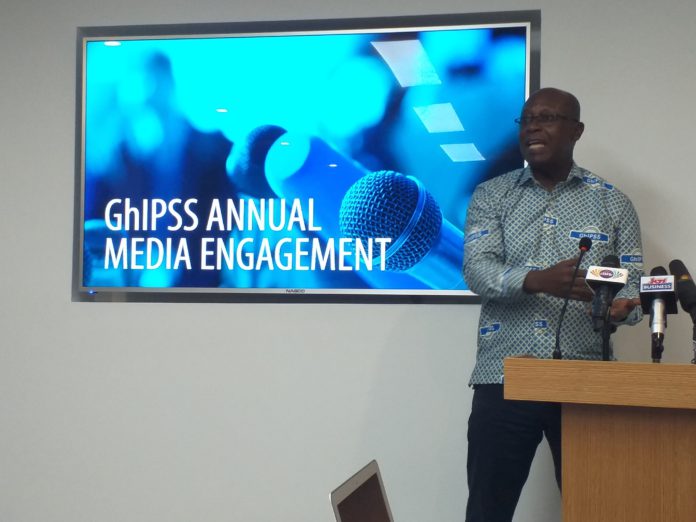 The Mobile Money Interoperability (MMI) platform recorded a whopping 317% growth in volume of transaction and 267% value of transaction between 2018 and 2019.
This was contained in the 2019 summary report from Ghana Inter-Bank Payments and Settlements System (GhIPSS), custodians of the MMI platform.
According to the report, the value of transaction for 2019 was GHC781.6 million, compared to GHC212.8 million in 2018, and the volume of transaction shot up massively from 2.2 million in 2018 to 9.4 million last year.
The totals for 2019 comprised of wallet to wallet, wallet to bank, bank to wallet, wallet to e-zwich and e-zwich to wallet transactions.
Of the five, the value of wallet to wallet topped with a whopping GHC618 million cash float from an equally huge 9.1 million wallet to wallet transactions.
Chief Executive of GhIPSS, Achie Hesse particularly lauded the mobile money market leader, MTN Mobile Finance for agreeing to open up their platform to interoperate with wallets on other networks to make mobile money interoperability possible.
"The market leader had every opportunity to keep an enclosed platform and still succeed on it's own but they showed commitment to the growth of the entire industry by opening up and I think they deserve commendation," he stated at a media encounter.
Wallet to wallet transfers was followed by wallet to bank transactions, which recorded GHC162.7million in value and 253,500 in volume; then bank to wallet as many as 1.5 million transactions, but in terms of value, it was only GHC552,500.
Transfers from e-zwich cards to mobile wallets also recorded an impressive GHC143.2 million in value, from some 326,000 transactions, while wallet to e-zwich saw GHC687,700 cash float from some 5,500 transactions.
Achie Hesse noted that because of the convenience of mobile money, a lot e-zwich users saw it as an easy outlet to cash their money than to go to bank or ATM, so many people transferred money from their e-zwich cards into their mobile wallets for easy cash cashout.
E-zwich
Speaking of e-zwich, the report also showed an appreciable growth in volume and value of e-zwich transactions between 2018 and 2019.
Volume of e-zwich transactions grew by 39% from 7.7 million in 2018 to 10.7 million in 2019, while the value of transaction also grew by 12% from GHC5.6 billion to GHC6.3 billion same period.
The GhIPSS boss attributed the growth in e-zwich usage its adoption by government for social intervention programs like LEAP, National Service Scheme, NABCo and others.
"The value figures shows that government is really moving a lot of money indeed, because even though the volume of transaction is only 10.7 million, the value is as high as GHC6.3 billion," he noted. "E-zwich is also doing well because it is an old product".
GIP
The other service on the GhIPSS platforms that recorded a massive growth was GhIPSS Instant Pay (GIP), which saw the highest growth rate of 1,224% in volume and an equally gargantuan 547% increase in value of trans action between 2018 and 2019.
In terms of actual figures, GIP saw number of transactions grow from only 144,000 in 2018 to 1.9 million on 2019, while the value of transaction grew from GHC534 million the year before, to GHC3.4 billion in 2019.
Cheques
Meanwhile, cheques usage for payment also saw a meager one per cent growth in volume, but a 10% drop in a value of transaction.
The figures show the number of cheques issued in 2018 was 14.7 million, and it grew to 14.9 million, but the value of cheque transactions in 2018 was GHC223.8 billion in 2018 and it dropped to GHC209.9 billion last year.
Achie Hesse said the figures show that corporate Ghana is still paying loads of money with cheques rather than using the electronic platform, but the trend is downward and it shows that after a while, GhIPSS have to spend money to improve its cheque clearinghouse technology.
Gh-link falls
The service that saw negative growth I both volume and value was gh-link card, recording a 36% dip in value of transactions and 47% deep is the number of usage.
But, according to the GhIPSS boss, they have a fix for gh-link uptake, which would ensure that all banks in Ghana would issue each customer with a gh-link Card so that each account holder can access their cash at the ATM for far less than what people paying using international cards like Visa and MasterCard.
He said most of the banks are still working on the migration of their system to support the local cards and he is confident that by next year bank will be onboard and be issuing their respective uniquely designed gh-link cards to each customer.
"In our interaction with the banks they told us we did not have to mandate them to issue gh-link cards – they accepted to do it willing because it is much cheaper for them and the customer so it makes business sense," Achie Hesse noted.
2020 Outlook
Speaking of new introductions for this year, the GhIPSS boss said they are will introduce Proxy Pay, which allows organisations and individuals to pay money into others' bank account by using the receiver's phone number (for individuals) or name (for corporate) instead of bank account.
They will also introduce the the ACH Direct Credit Near Real Time version, which would allow people to receive money near real time even when offices have closed and gone home – so such transfers would hit receiver's account approximately 15 minutes later than expected.
GhIPSS said they will also introduce the GHQR code to make tap and pay even smoother, even in USSD; and also bring on the hybrid Point of Sale (POS) system, which would enable Fintech partners to both debit and credit customers' account as it may apply.
Achie Hesse is confident that both banks and Fintech companies will key in on the various platforms to keep driving the country's cashless society agenda.
Story by: Samuel Nii Narku Dowuona | Adom News