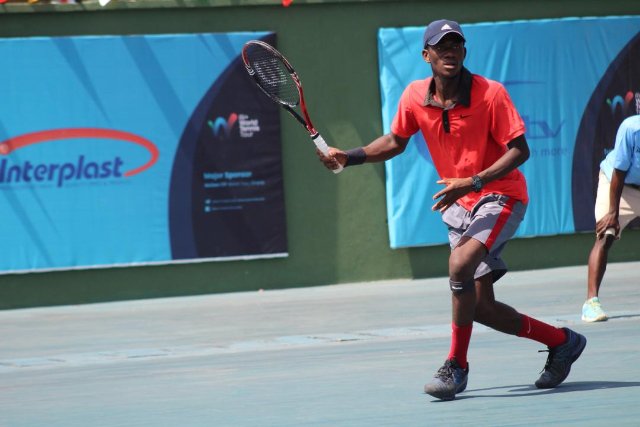 The only Ghanaian in the main draw of the ongoing Mcdan ITF
World Tour Japheth Bagerbaseh has crashed out.
Bagerbaseh could not make it to the second round as he was
stopped by number six seed, William Bushamuka of USA in a match played on
Thursday at the Accra Sports Stadium Center court.
The homeboy, Bagerbaseh could not match the firepower of the
experienced US-based Bushamuka, as he lost in two straight sets of 0-6,3-6.
In the other singles game: Tournament No.1 Benjamin Lock of
Zimbabwe advanced into the quarterfinals after outwitting Curaçao's
Michael-John Every 6-3,6-1. Namibia's Tukhula Jacobs also eased past Italy's
Andre Bassire 7-5,6-1.
No. 7 seed Niklas Johansson from Sweden failed to make it to
the quarterfinals as he bowed to Portugal's Andre Gaspar Murta in a game that
ended 4-6,6-1,7-6(2). No.4 seed Mehluli Don Ayanda Sibanda from Zimbabwe
defeated Philippines' Jurence Zosimo Mendoza 6-4,7-6-9). No.3 seed from
Ukraine; Eric Vanshelboim also ousted Nigeria's Joseph Imeh Uboh 7-6(3),2-0(r).
No.2 seed Ryan James Storrie from Great Britain won 6-1,6-4 against
Netherland's Len Schouten.
In the doubles events, Benjamin Lock and his junior brother
Courtney John Lock showed their superiority over Ghanaian duo Bernard Ashitey
Armah and Johnson Acquah. The Lock brothers from Zimbabwe won 6-2,6-0.
Japheth Bagerbaseh and Daniel Quartey could not stand the
test as they lost 2-6,0-6 to Portugal's Andre Gaspar Murta and Ukraine's Oleg
Knotkov. Benjamin Fumi and Benjamin Palm also got knockout by Great Britain's
Darryl Hale and Sweden's Niklas Johansson in a game that ended 3-6,4-6.
In other doubles games, Zimbabwe's Mehluli Don Ayanda Sibanda and Great Britain's Ryan James Storrie surpassed Italian brothers Andre Bessire and Francesco Bessire 6-2,6-3.
Source: Joy Sports/Moses Yeboah