A little over one year after Beyoncé dropped her critically acclaimed album "Lemonade," it's Jay Z's turn to get vulnerable and address those "Becky with the good hair" references.
On Friday, the veteran rapper released his highly anticipated 13th album, "4:44," and it features plenty of lyrics that allude to rumors that he cheated on his superstar wife.
In one particularly poignant lyric from the album's title track, Jay considers what the couple's three children might think if they ever learned what their father had done:

I never thought I'll see a rapper (the greatest rapper alive imo) admit that infidelity isn't cool Jay Z 444!! Lemonade!!
Throughout "4:44," the Brooklyn-born rapper issues lyrical apologies to his wife, sometimes even directly referencing famous lines from "Lemonade."
What do the lyrics say about Hov as a husband ― and what can couples grappling with infidelity themselves learn from the album? Quite a bit, marriage therapists told HuffPost. Below, they interpret and unpack some of the more loaded lyrics.
"You egged Solange on / Knowin' all along, all you had to say you was wrong / You almost went Eric Benét / Let the baddest girl in the world get away / I don't even know what else to say / N***a, never go full Eric Benét / I don't even know what you woulda done / In the future, other n***as playin' football with your son" (from "Kill Jay Z")
 Who could forget the infamous elevator incident with Bey's sister, Solange? Clearly, not Jay Z. Back in 2014, a video surfaced showing Solange physically confronting the rapperin an elevator after the Met Gala as her sister stands by. Rumors quickly spread that Jay and Beyoncé's seemingly picture-perfect marriage was troubled.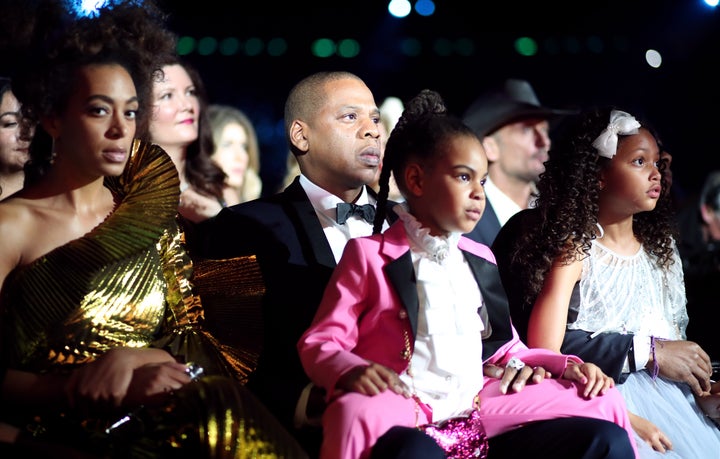 CHRISTOPHER POLK VIA GETTY IMAGES
Jay Z with his daughter Blue Ivy and sister-in-law Solange at the 2017 Grammy Awards.
Jay also name drops another man known for his marital mistakes; Eric Benét, the actor who infamously cheated on then-wife Halle Berry in the early 2000s. (Berry divorced him in 2003.)
In this verse, the rapper reveals a fear of losing Beyoncé ― and the life they built together ― to another man, said Marissa Nelson, a marriage therapist in Washington, D.C.
"This lyric shows that unconditional love can trigger people. It can cause them to push it away out of fear that they're not good enough," Nelson told HuffPost. "When you fear abandonment, you self sabotage and hurt the ones you love."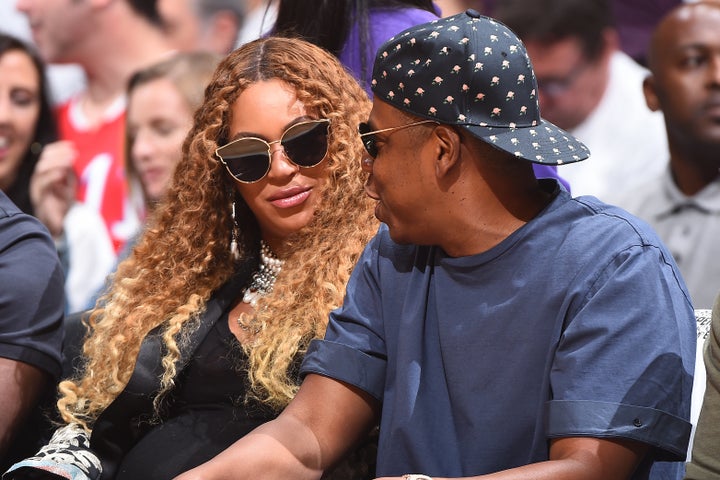 ANDREW D. BERNSTEIN VIA GETTY IMAGES
The couple took in a basketball game in April 2017, a few months before the birth of their twins.
Katherine Schafler, a New York City-based psychotherapist, said that it's not for nothing that Jay refers to himself by his stage name and in third person on the track. (His real name is Sean Carter.)
"It's purposeful," she told HuffPost. "He seems to allude to his image as a rapper and the need for it to die off so that his real identity as a devoted father, a loving husband and even as a feminist can come through."
"Look, I apologize, often womanize / Took for my child to be born / See through a woman's eyes / Took for these natural twins to believe in miracles / Took me too long for this song I don't deserve you" (from 4:44)
On the record's most brutally honest song (the rapper called it  "the crux of the album"), Jay takes full ownership of his mistakes. Here, the artist who not so humbly  calls himself Hova grapples with his self-worth and failings as a husband, Nelson said.
"He seems to have struggled throughout their relationship to feel worthy enough as a man," she said. "It took seeing his wife's pain and the innocence of his children to realize that life and his actions are bigger than him, and he is deserving of pure love."
"I still mourn this death, I apologize for all the stillborns / 'Cause I wasn't present, your body wouldn't accept it" (from 4:44)In the 2013 HBO documentary "Life Is But A Dream,"
Beyoncé spoke candidly about  suffering a miscarriage before conceiving daughter Blue Ivy.
Here, Jay Z mourns the losses and pain that his absence caused his wife. Figuratively, Schafler said the lyrics suggests that the marriage as the couple knew it needed to die off in order for them to start anew ― "a sort of phoenix from the ashes situation."
"As my fellow New York-based psychologist Esther Perel has suggested, after your marriage experiences an affair, you can think of the marriage as you knew it as over ― the question then becomes, 'Do I want to start a new marriage with this person?'" Schafler said. "Jay Z and Beyoncé seem to have answered the question affirmatively."
"And if my children knew, I don't even know what I would do / If they ain't look at me the same I would probably die with all the shame / 'You did what with who?' What good is a ménage à trois when you have a soulmate?/ You risked that for Blue?'" (from 4:44)
Jay Z's guilt is on full-display in this lyric, Nelson said.
"We really get a glimpse into the shame he feels, knowing he risked it all in the name of lust," she said. "He's acknowledging that one day he will have to look in the eyes of his children and reveal that he wasn't always the person his wife needed him to be for their family."
"I never wanted another woman to know / Something about me that you didn't know / I promised, I cried, I couldn't hold / I suck at love, I think I need a do-over" (from 4:44)
There are two types of affairs:  emotional and sexual. Here, Jay Z recognizes the full weight of his emotional betrayal, said Ryan Kelly, a psychologist in Charlotte, North Carolina.
"It's a generalization, but women are usually more bothered by emotional affairs ― the idea of their significant other falling in love with someone else," he said. "It sounds like Jay Z understands that emphatically and it bothers him that he showed intimacy to another woman."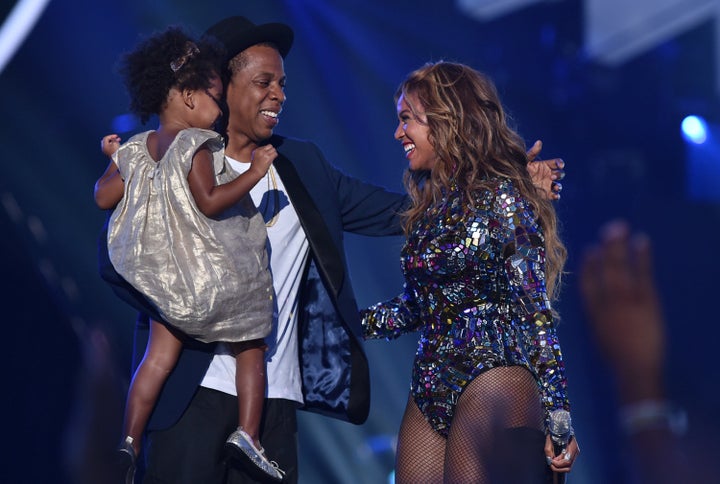 MTV/MTV1415 VIA GETTY IMAGES
The couple and daughter Blue Ivy at the 2014 MTV Video Music Awards.
"Yeah, I'll f―- up a good thing if you let me / Let me alone, Becky / A man that don't take care of his family can't be rich / I'll watch 'Godfather,' I missed that whole shit" (from "Family Feud")
 On this  Beyoncé co-written track, Jay references and rejects "Becky with the good hair," the notorious nickname his wife gave his alleged mistress on "Sorry" from "Lemonade."
He then makes an allusion to a monologue from "The Godfather," where family patriarch Don Vito Corleone says "a man who doesn't spend time with his family can never be a real man."
The verse shows Jay coming full circle and recognizing the need to show up for his family, said Sheri Meyers, a marriage and family therapist and the author of Chatting or Cheating: How to Detect Infidelity, Rebuild Love and Affair-Proof Your Relationship.  
"It shows him going from shame-filled child to taking responsibility to do whatever is necessary to repair the trust, deepen their connection and rebuild a love-secure, relationship with his wife," she said.
Confession and apology are one thing, Meyers said, but "the next critical step is growing up and showing up strong and ready to face and repair the issues that led to infidelity in the first place."