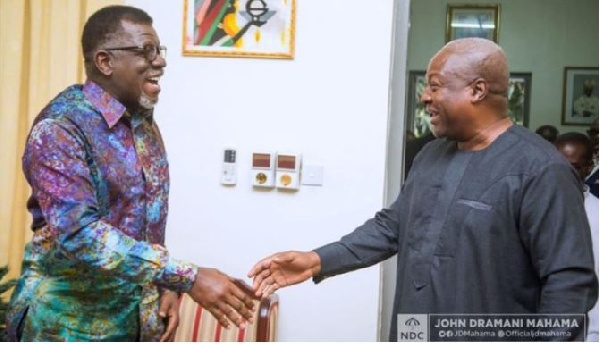 The Flagbearer of the opposition National Democratic Congress (NDC), John Dramani Mahama, had a 'meet and greet' session with Pastor Mensa Otabil at the maiden edition of Conversations in the Cathedral.

The two revered personalities met at the Conversations in the Cathedral programme in Accra on Wednesday.

The encounter sparked a lot of reactions from a section of the public with some Ghanaians wondering why the 'duo' are beaming with so much smiles when the pastor and former Ghanaian leader aren't known to be in each other's good books–at least in public.

Pastor Otabil is an ardent critic of the erstwhile Mahama administration for numerous reasons. He often picked on the former President's government while he was in office. The economy, the cedi and state of the country often went to the pulpit.

It is the first time in recent years that two are meeting in public. While many expected frowns–the two took to smiling.

The last time another critic of the Mahama administration, Rev Owusu Bempah, attempted to meet and shake the former President, it caused a commotion.

That was at the Holy Ghost Revival Center of the Assemblies of God Church, South Odorkor in Accra.

Bodyguards of the former President Mahama blocked the handshake, generating into commotion before calm was restored.

The Conversations in the Cathedral was initiative, by the Metropolitan Archbishop of Accra, Most Rev. John Bonaventure Kwofie, to bring together both secular and religious leaders from diverse backgrounds to discuss issues of common concern.

It is also expected to create a bridge of trust among all participants and their various followers.