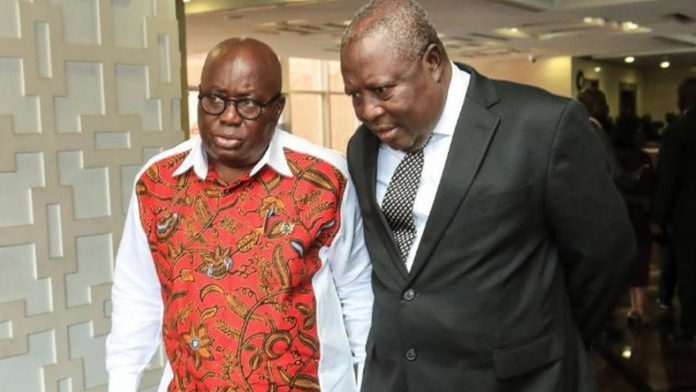 President Nana Akufo-Addo seems satisfied with the work of the Special Prosecutor though a year in office some have criticised him for doing nothing.
"He is a very experienced public official who is getting on with his work," he said when quizzed on whether he is happy with work done so far by Mr Martin Amidu.
READ: Watch: Songo puts Akufo-Addo in tight corner
Many people who believe in the prowess of Mr Amidu, popularly known as 'Citizen Vigilante', are somewhat disappointed over his inability to prosecute corrupt public officials.
Almost a year in office, he is yet to secure any conviction though he is in court with some former appointees of the erstwhile Mahama administration.
Mr Amidu's lamentations about some government appointees interfering in his work, pundits maintained were unjustifiable because he had been empowered in law to be able to surmount all challenges.
READ: Akufo-Addo describes 'Planting for Food and Jobs' in one word
President Akufo-Addo also said the Special Prosecutor has been empowered to discharge his duties without fear or favour.
Even as President, he said he has ensured not to get involved in any case being handled by the Special Prosecutor.
"I'm reluctant to attempt to micro-manage or get involved or be seen to be meddling in his [Amidu's] remit," he stressed.
READ: Nurses, midwives demand payment of delayed salaries
"I know he is doing his work; he is an independent official and all of us will be judges of the quality of that work," President Akufo-Addo added.
Source: Ghana|Adomonline.com|Adwoa Gyasiwaa Agyeman