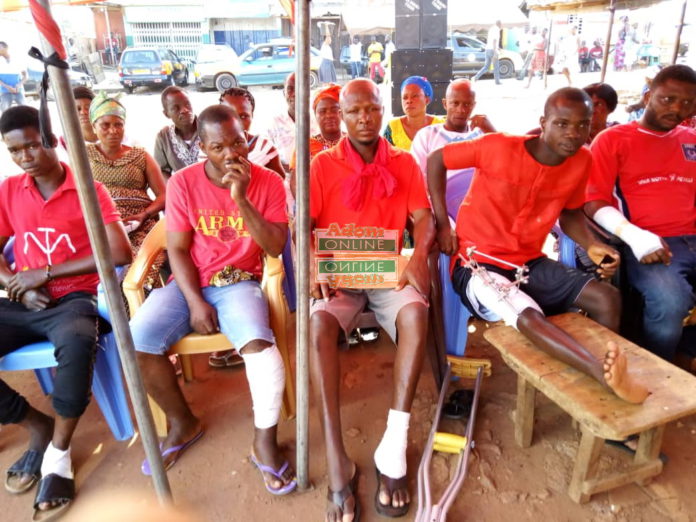 Municipal Chief Executive (MCE) for the Lower Manya Krobo Municipality had a difficult time giving a report on the progress of a clash between police and youth in the area during a protest over Power Distribution Service' (PDS's) mass disconnection exercise in May.
A group of angry youth in the area are said to have organised a spontaneous protest to petition the MCE in May 2019 on concerns of over-billing by PDS and a 'Revenue Mobilisation' mass disconnection exercise when the shooting incident happened.
ALSO: Police arrest 11 'Western Togoland' separatists
Speaking in an interview on Adom FM's Dwaso Nsem, the MCE, Kwaku Simon Tetteh, who described the incident as unfortunate, dismissed reports that the incident happened in his presence.
"I am under an oath and I cannot lie but nothing started in my office and I was not around when the incident happened, I was away in Koforidua when the chief called me for a meeting over the mass disconnection exercise which I couldn't attend," he said.
ALSO: NDC to hold forum on 2020 Budget
According to Mr Tetteh, he is yet to find out from the Minister of Energy, Peter Amewu who assured them a committee would be set up to investigate the clash.
"It is not safe for me to go and see the chief but we have had series of engagements on the matter and I have to go back to the Energy Minister to ask about the findings on the clash because the situation is beyond my district alone," he stressed.
ALSO: Investigations into Menzgold at advanced stage – State prosecutors
To the MCE, the District cannot single-handedly deal with the situation because the police that can lead the investigations are the centre of accusations.