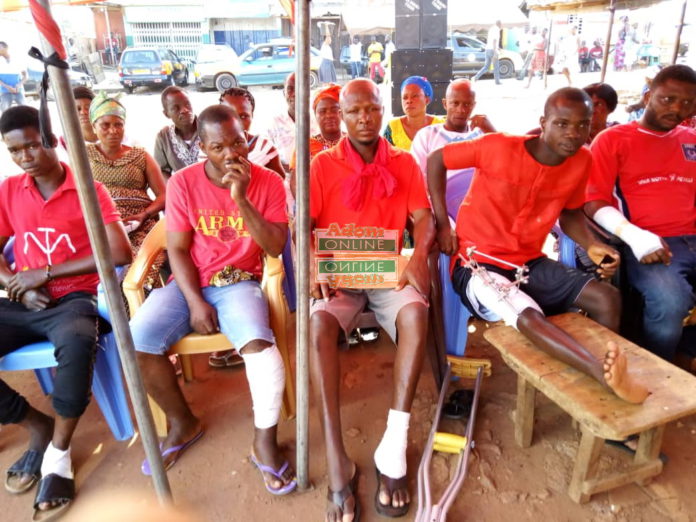 Residents of Krobo Odumase in the Eastern Region on Sunday have organised a fund-raising exercise to support victims of police clash that killed one resident and left several others injured.
The victims, who sustained a varied degree of injuries when they embarked on a protest against what they described as over-billing by the now-defunct power company, Power Distribution Service (PDS) have not seen any response from the state in spite of promises of an investigation into the matter.
Speaking in an interview on Adom FM's Dwaso Nsem, Teye Kwao Kassim, spokesperson for the Krobo United Foundation said the initiative was to put smiles on the faces of the victims.
READ ALSO
From Agbogbloshie slum to Ghana's premier medical school; the story of Dr Olivia Agbenyeke
An amount of GHc3,300 realised from the fundraising activity, according to him, will help the victims to start petty trading.
"Aside from the one person who was shot dead, we now have about 13 people who have been affected," he explained.
According to Mr Kassim, the Assembly has demonstrated little or no commitment to helping resolve the matter which has cost a lot of people their lives and happiness.
"The Assembly told us a committee will be formed to look into the matter but as at now, nothing of that sought has happened," he narrated.
The Krobo residents in May this year, clashed with the police during a mass disconnection exercise by PDS insisting that bills charged them by the now-defunct power company, PDS, were outrageous and demanded the power company investigates the cause of the sudden rise.
However, the clash saw several people injured and hospitalised, as live bullets allegedly fired by the police killed 24-year-old Thomas Partey instantly while injuring several others including Kotey Isaac.