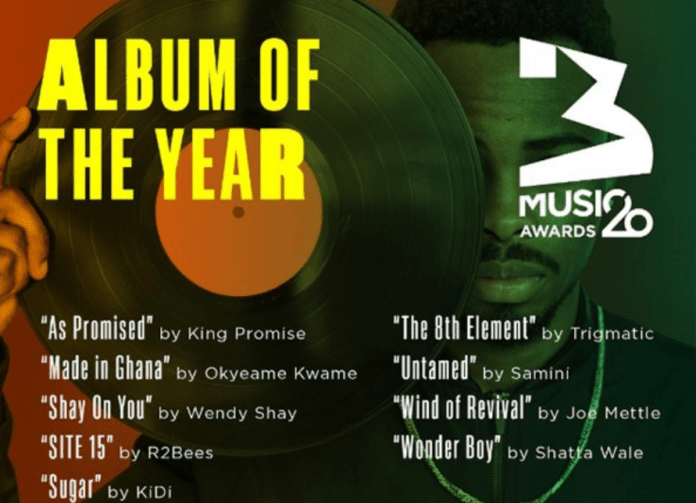 On Thursday, January 30, organisers of 3 Music Awards released their much-anticipated nominees' list for the 2020 edition.
The nominations, after its release, received mixed reactions from the public.
Reports of rapper Sarkodie being the artiste with the highest nominations was welcomed by many, while the appearance of some works and artiste on some categories sparked debates.
3Music Award organisers hence have released their definitions for each category.
According to them, this is to explain the board and the Academy's choices and selections in each category.
See the list below:
Definition for Hiplife/Hiphop Act of the Year

And the nominees are…

Category definition for Hiplife Song of the Year

And the nominees are…

Category definition for Hiphop Song of the Year

And the nominees are…

Category definition for Video of the Year

And the nominees are…

Category definition for Producer of the Year


And the nominees are…

Category definition for Reggae/Dancehall Song of the Year

And the nominees are…

Category definition for Reggae/Dancehall Act of the Year

And the nominees are…

Category definition for Group of the Year

And the nominees are…

Category definition for Song of the Year

And the nominees are…

Category definition for Highlife Act of the Year

And the nominees are…

Category definition for Highlife Song the Year

And the nominees are…

Category definition for Male Act of the Year

And the nominees are…

Category definition for Album of the Year

And the nominees are…

Category definition for Breakthrough Act of the Year

And the nominees are…

Category definition for Viral Song of the Year

And the nominees are…

Category definition for Female Act of the Year

And the nominees are…

Category definition for Gospel Act of the Year

And the nominees are…

Category definition for Gospel Song of the Year

And the nominees are…

Category definition for Digital Act of the Year

And the nominees are…

Category definition for Best Male Vocal Performance

And the nominees are…

Category definition for Best Vocal Female Performance

And the nominees are…

Category definition for Fan Army of the Year

And the nominees are…

Category definition for DJ of the Year

And the nominees are…

Category definition for African Act of the Year

And the nominees are…

Category definition for Afrobeats/Afro-Pop of the Year

And the nominees are…

Category definition for Best Collaboration of the Year

And the nominees are…