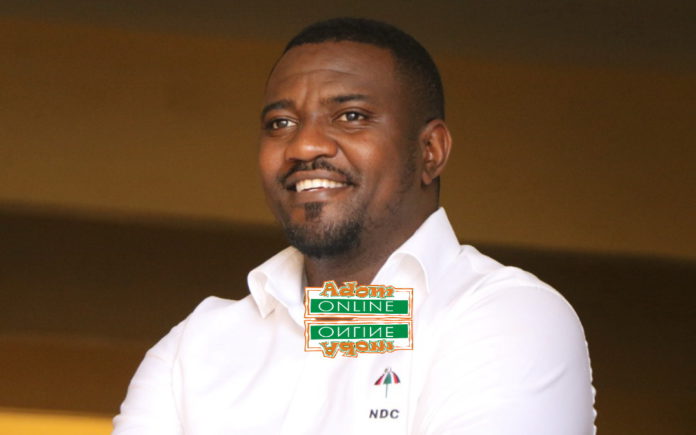 Actor cum Politician, John Dumelo, has disclosed that he won the Ayawaso West Wuogon nominee slot for the NDC by a huge margin because he spoke the language of the delegates.
According to Dumelo, he has always been serious with his quest to contest for the parliamentary seat and he worked very hard towards it.
He told Bernard Avle, the host of Point of View on Citi TV, that he did most of his hardwork during the bye-election which he did not contest.
Dumelo admitted that Ghanaians underestimated his chances of winning to become a parliamentary aspirant.
ALSO: Photo: The 75-year-old woman crushed to death by 'careless' excavator driver
"Most of the political stuff that I did, I didn't put on social media because that is not what is important. What is important is the one-on-one dialogue with the delegates which I was doing so that is why people were thinking 'Ah is John contesting," he explained.
"When you go to the delegates and you speak their language, they'll understand you and vote for you," he added.
John Dumelo noted that he faced strong opposition from within especially, from some unseen hands who thought he was not ready yet to become an aspirant for the NDC.
He believes that his profession as an actor as well as his alignment to certain groups of people, made most of his party folks think he is not the right candidate for the Ayawaso West Wuogon constituency.
"I'm very spiritual and if God speaks, you can't stop it. I have lived in East Legon for so many years and served the NDC for so many times. At the end of the day it's the people who are calling me to represent them, so we need a different approach to be able to win the seat for Ayawaso West Wuogon," he stated.
"Everybody feels that I am the right person to win the seat for the NDC in Ayawaso West Wuogon constituency," Dumelo stressed. 
ALSO: Yieleh Chireh yet to congratulate me – Fmr. IGP secretary
He indicated that he chose Ayawaso West Wuogon constituency because he didn't need an easy seat like going through his hometown seat to be in parliament.
"I want the hardest and most challenging route to parliament and at the end of the day it is for the good of the party because winning Ayawaso West Wuogon will add more votes to the NDC."
John Dumelo during last Saturday's parliamentary primaries of the opposition National Democratic Congress (NDC) won with 758 votes representing 88 per cent to become the NDC rep for the Ayawaso West Wuogon constituency.
As a newcomer, Dumelo beat Suzzy Afua Adoboe who had 99 votes out of the 859 votes cast. There were two rejected ballot papers.
His victory was greeted with rapturous cheers from teeming supporters who had gathered at the La Bawaleshie polling station.
Even before the results were announced, the supporters could be heard chanting "We want John" implying that they wanted John Dumelo to represent them.
Source: Ghanaweb