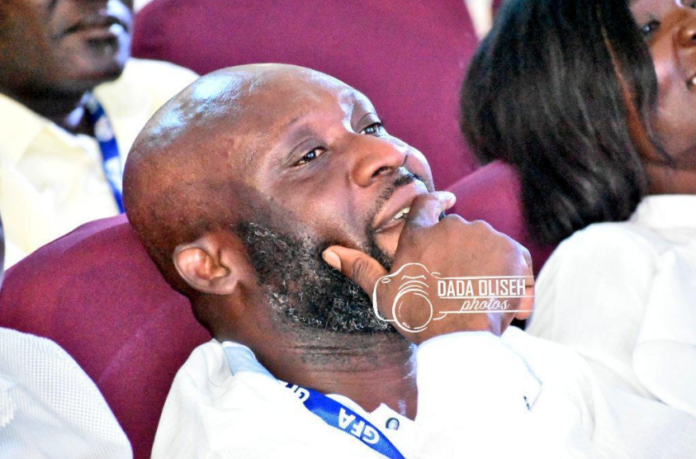 Executive Council Member of the Ghana Football Association (GFA), Randy Abbey, has revealed that he had to kneel and beg George Afriyie to concede defeat.
The Okyeman Planners owner and bankroller was touted as the favourite to win the Ghana GFA high seat.
However, at the elections grounds at the College of Physicians and Surgeons in Accra, Kurt Okraku, who was considered a novice to occupy the position as the Ghana FA boss won the first round by polling 44 votes with Mr Afriyie polling 40 votes.
However, in the second round, Mr Okraku missed the required 50% plus one by just two votes after he secured 59 votes while Mr Afriyie got 43 votes with Nana Yaw Amponsah also earning 16 votes.
SEE THIS:
The election was then thrown into a third round of voting in accordance with the GFA Statutes and to elect a winner who can cross the 50 plus one mark.
Mr Afriyie, however, announced his decision to pull out from the race and congratulated Mr Okraku.
However, a third round of voting was held with Mr Okraku as the sole candidate which saw him secure 93 votes to emerge as the winner of the elections.
But, the former Communications Director of the Ghana FA revealed it took his intervention for Mr Afriyie to concede defeat.
"When Osei Palmer was disqualified from the elections, the person who was favourite to win the elections was George Afriyie," he exclusively told Asempa FM.
"George Afriyie is a big figure in our football. He is a former Ghana Football Association vice president.
"After the first round of the elections, I was a bit surprised when Kurt Okraku had 44 votes but after the second round, I told George Afriyie that he should bow out with some grace and dignity because some people had told him he should not give up but if you do an analysis of the votes, there was no way George Afriyie would have won the elections.
"I had to kneel and beg him to bow out but he told me I should not do that but after that, he came and conceded defeat. George Afriyie is my friend and we are still in touch despite losing the elections," he added.