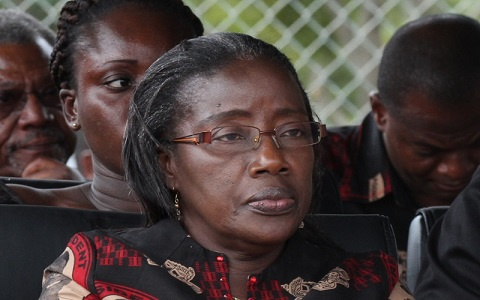 Almost a year after Matilda Amissah-Arthur, wife of Ghana's late vice president, lashed out at some Ghanaians for their hypocrisy during the funeral service for her husband, the librarian has explained her reason for the comments.
She told Bernard Avle on The Point of View on Citi TV that, she may have been led by the "Holy Spirit" to make the comments while delivering her tribute on the day of the funeral service in Accra.
"I hate hypocrisy, I hate dishonesty, I hate lies," she said.
ALSO: Chinese 'Rosewood Queen' deported
According to her, although she had prepared a one-page tribute to deliver during the ceremony, she was moved to free her mind on the hypocrisy some people were displaying.
"When my husband died, it came to the fore how hypocritical we can be as a people because a lot of people who threw insults at my husband that he was good for nothing and he didn't do any work and so on, actually came and said he was not just a gentleman's gentleman but he was so hardworking, worked so well and was fantastic," she said in the interview.
"One of the things I said there, was to the effect that those who know his worth, value him, stressing that, this one year has proved to everybody Mr. Amissah-Arthur's value."
ALSO: Carpenter, 22, jailed six years for stealing
In her tribute on that day, she said; "I asked myself, is this Ghana? Are all these people in Ghana because the maligning, the lies, the treachery, the wickedness, the deliberately changing things so that you could look better than others….Today I asked the same question, did people really know my husband. Did people take time to know him? The false accusations, the lies, the maligning. Did they know him?"
But in words of comfort, she concluded by saying her family cherished the late Kwesi Amissah-Arthur.
Source: CITIFM