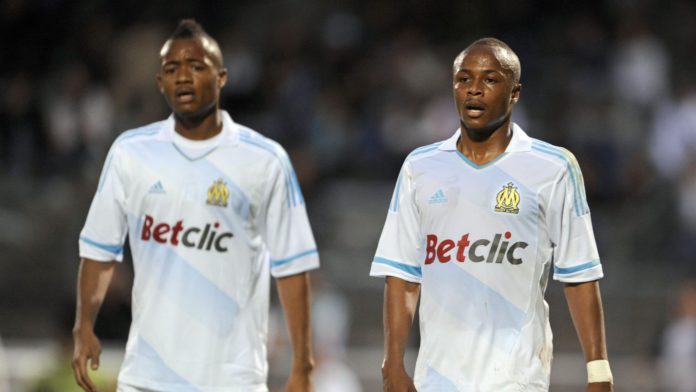 Ghana international, Jordan Ayew, says he had to prove himself before he was given the chance to play for Olympique Marseille.
The 28-year-old forward and his elder brother, Andre Ayew both played for the Ligue 1 giants before moving to England.
Ayew joined Marseille as a trainee in 2006. He signed a three-year professional contract with Marseille in 2009.
Jordan Ayew made his debut for the senior team on December 16, 2009, in a league match, scoring the equaliser against Lorient. Marseille went on to win the match 2–1.
Ayew followed in his father's footsteps in signing for Marseille, but suspicions of nepotism were never too far away.
But the Crystal Palace forward says he had to prove himself before joining the team.
"Some people thought that I was only at Marseille because of my dad," he told Daily Mail.
"I had to prove myself, to show everyone that I deserve to be where I am today.
READ ALSO
'In Ghana as well, when I got called up for the national team they used to say it was just because of my dad. But it is positive for me. I like it when people talk. It gives me energy and motivates me," he added.
Jordan's father, Abedi 'Pele' Ayew is the first African footballer to win the Champions League in its current format, with Marseille in 1993 and many laurels with the club.
Following 198 senior appearances for Marseille, Sochaux and Lorient, Ayew found himself in the Premier League in 2015, signing for Aston Villa for £8million.
He finished that season as Villa's top scorer but suffered relegation. He returned to the top flight 12 months later, only to suffer the same fate with Swansea in 2018.
Jordan scored a total of 22 goals for Olympique Marseille.
Abedi Pele, his father is a legend of the French Ligue side.