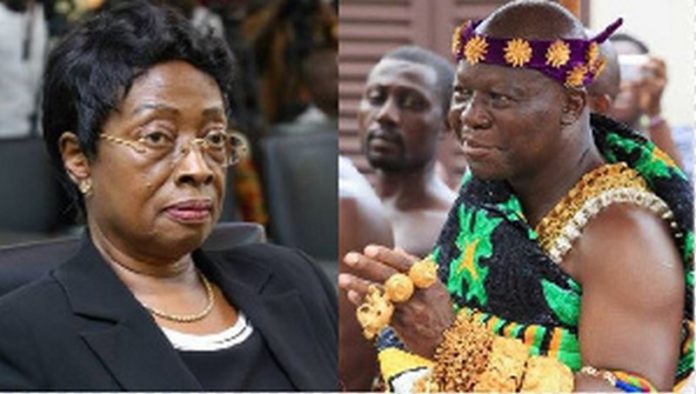 Supreme Court judges appear tough, but behind the veneer of power lays a softness that the Chief Justice Sophia Akuffo revealed as she bows out of the country's highest court saying she found Otumfuo Osei Tutu II shoulders very strong to lean on.
At her last spell at the Supreme Court which she presided over, Chief Justice Akuffo lauded the Asantehene for his immense contribution to shaping her career and also being pivotal in every aspect of her life.
At a point, she said she had to cry whenever she called him.
"I want to thank Otumfuo who has been my secret all this time, back and support, whether I am happy about something or terribly unhappy about something, he is always there, she said.
"I would call him and if he did not pick up, he will call me back and I would sometimes cry and complain but he would always give me the heart," she said recounting on her pillars of support in 24 years' journey on the Supreme Court.
She also lauded the contribution of successive former presidents; Flt Lt. Jerry John Rawlings, the late John Evans Atta Mills, John Dramani Mahama and sitting President Nana Addo Dankwa Akufo-Addo.
Justice Akufo-Addo also thanked Pastor Mensa Otabil for his support.
According to her, "all these people have shaped her to become who she is now. "
She is set to retire on December 20, 2019.