A Fetish priest at Gomoa Abura near Apam Junction in the Central Region, Nana Kofi Okumkom has been severely brutalized by a colleague spiritualist, Mallam Yaa Wadudu around 8: pm Wednesday night.
According to Nana Okumkom, the Mallam stormed his home at Gomoa Abura with some unidentified 'macho' men and subjected to severe beatings.
He indicated that, the macho men assaulted him for allegedly directing clients of Mallam Yaa Wadudu to his shrine.
But Nana Okumkom expressed shock at the conduct of the Mallam who quit to job months ago.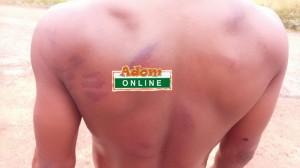 But for the help of a Good Samaritan, Nana Okumkom said he would have been a dead man.
"His macho men beat me mercilessly. They nearly killed me but I escaped. They shot at me several times but I was lucky…" he explained.
"Mallam stormed my home with some macho men and started beating me and telling me not to dare take his clients because he wasn't getting people to help but I managed to escape else I would have been a dad man" he narrated.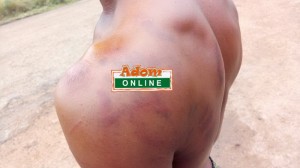 But investigations conducted by Adom News' Kofi Adjei revealed that, the are spiritual rivals in the area.
He said the victim, Nana Okumkom had accused Mallam Yaa Waduduof being a fraudster – a reason he mobilized machomen to teach him a bitter lesson.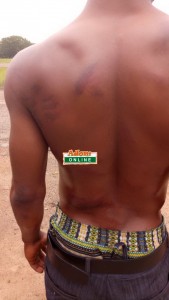 "He (Mallam Yaa Wadudu) is a fraud. I told his customers the truth that he is only duping them and as a result, they wanted their monies back. That's why he wanted to kill me…"
Listen to Nana Okumkom

But in a rebuttal, But Mallam Yaa Wadudu accused Okomfo Nana Okumkom of sabotaging his profession ever since he backed out of "business".
"He was doing the same work and decided he didn't want to continue. Now he stays at my junction to sack my customers away and I can't even enjoy my money anymore. At times he chases them away and preaches falsely to them.
"I only sent my macho men to teach him a small lesson not to meddle in my affairs and not to kill him as he is alleging and besides am not fake, he is rather the fake person…" he fumed.
Listen to angry Mallam Yaa Wadudu