Maverick politician, Kennedy Agyapong has revealed docket for the prosecution of five former appointees under the erstwhile Mahama administration is ready.
Refusing to reveal the identities of the four, Mr Agyapong was certain that the former Chief Executive Officer (CEO) of Ghana Cocoa Board (COCOBOD), Dr. Stephen Kwabena Opuni made it to the list.
"I can state categorically that some documents for the prosecution of some corrupts NDC officials are ready. I know of Opuni's own and some five others. I know all these documents are ready and are in the custody of the CID and I can assure you that they will not go scot-free" he said on 'National Agenda', a morning show programme on Accra-based Net 2 TV.
The Member of Parliament for Assin Central who has vowed to ensure Stephen Opuni goes to jail expressed optimism in the Akufo-Addo led government.
"Opuni will go to jail and I will make sure he pays dearly for his crimes. If we refuse to jail him, Ghanaians will vote against us in the next four years and so we need to get corrupt officials like him away from the country" Kennedy Agyapong said.
The outspoken politician said the actions of the former COCOBOD Boss has caused financial loss to the state therefore "it is time we make him pay for his bad deeds".
Akrompreko as he is popularly called urged government to expedite action in the prosecution of alleged corruption officials in the Mahama government event before before the arrival of the Independent Special Prosecutor (IPP)because Ghanaians are losing patience.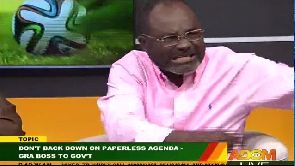 "Prosecution of some 'corrupt NDC officials' must start even before the special prosecutor arrives. Yes, Nana Addo said there will be Special Prosecutor to deal with these corrupt NDC officials but I think prosecution must start even before the special prosecutor arrives because when people are punished for wrongdoing, Ghana will be a safe place" he stressed.
Click on attached audio for more