Three female Junior High School students of Agona Kwanyarko Anglican JHS in the Central Region have reportedly drowned in River Ayensu.
The students have been identified as a 17-year-old Hannah Mensah, Matilda Ametornyor aged 17 and 15-year-old Rachael Awusi.
District Chief Executive (DCE) for the area, Dennis Frimpong said the girls drowned while swimming after school hours on Friday.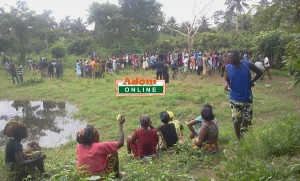 The DCE said parents of the deceased reported the matter, and a search party, including the youth of the area was immediately dispatched to search for the bodies.
A search party he said has been able to retrieve the bodies of two of the girls remaining one.
But what has angered and caused apprehension among the residents is the order given by the Fetish Priest, Nana Afram who worships the River god, who is demanding to take possession of the body of the third girl and solely bury it when it's retrieved.
He claims he'll have to use the body to perform some rights to stop such unfortunate incident from happening in the town anymore.
However, the family of the remaining deceased girl is promising a showdown with the festish priest as they've vowed to resist his move.
Meanwhile, the Agona-Swedru District Police Commander, Superintendent Seth Yirenkyi confirmed said his outfit will not relent on its efforts to ensure the other body is found.
Listen to the police