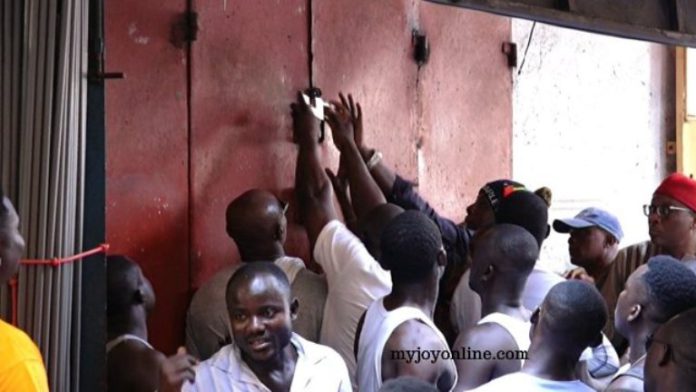 Despite calls by President Nana Akufo-Addo to the Ghana Union of Traders Association (GUTA) to stop attacking foreign traders in the country, the Association remains resolute in its quest to stop foreign retailers from doing business.
GUTA on Monday locked up about 600 shops belonging to foreign traders around Tip-Toe lane near the Kwame Nkrumah Circle.
Theaction led to the arrest of six people and resulted in the injury of three others.
President Akufo-Addo subsequently pleaded with the Association to caution its members and allow the law to take its course.
According to the President, while the law favours GUTA, a committee comprising of the Association, the Trade Ministry and the Ghana Immigration Service have been set up to find a lasting solution to the problem.
But speaking to Joy News, Deputy General Secretary for GUTA, Richard Amamoo, said "even though the Association respects the President's intervention, members are frustrated."
"The President has admitted that the law favours us and we understood what he said but the right thing must be done. Our fear is that if the Presidents says we should leave it for the Trade Ministry and Immigration, how long is that going to take. This committee is still in the room talking and we are out here facing the problem. The solution must be now. Our people are very frustrated and unhappy and we don't know what to tell them. How can we open the shops without telling them anything?" he quizzed.
He, however, added that executives of GUTA will be meeting later in the day to decide on the way forward.
"As at now, we have locked up about 600 shops and that's not even all. If Nigerians can own more than 600 shops just in Circle can you imagine what is happening to our Ghanaian brothers? We have spoken to members in Tamale and Kumasi and they are ready to lock up shops too so we need an urgent solution now, not in-door meetings. Even today we are meeting around 10 am to conclude on the way forward. Our members are very unhappy."
The GIPC Act 856 and section 27 (1) exclusively reserves the sale of goods or provision of services in a market or stall, petty trading or hawking for citizens and even prescribes punishments for foreigners engaged in retail business.
While this law continues to be evidently disregarded, many have blamed the government and the security services for their lackadaisical attitude towards enforcement.
Constant reports of clashes have been recorded at the Opera Square Market in Accra, where foreign traders' shops have been locked up on multiple occasions.
In June this year, Nigerian spare part traders in Suame Magazine market were packed out of their shops following a similar clash between the two groups.