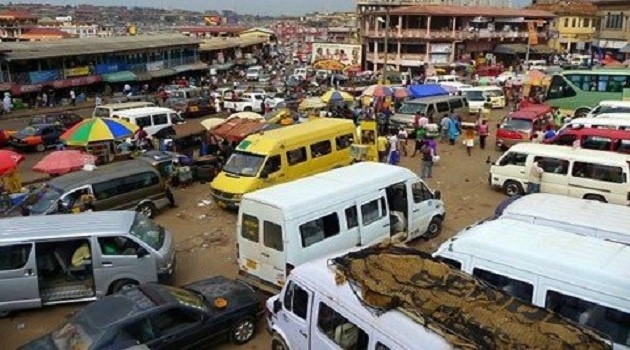 Mr George Ofori-Davis, the General Secretary of the Ghana Private Road
Transport Union (GPRTU) on Thursday cautioned drivers who access the
Nkawkaw-Kwahu route to be more careful while driving prior to and during
the Easter festivity.
He also advised passengers against giving drivers to speed beyond
reasonable limits to enable them to get to their destinations early.
"If you want a driver to take you to a safe place, you don't need to
put pressure on him. Drivers should not listen to passengers who want
them to speed once they know they are driving decently, they shouldn't
speed to passengers," he said.
Mr Ofori-Davis who said this in an interview with the Ghana News Agency
(GNA) advised drivers to report passengers that would disrupt their
attention from driving smoothly.
He noted that it was also unwise for drivers to take alcohol and hard
drugs like tramadol before driving as that could put them off the road.
Mr Yaw Afari, the Station Master of the Nkawkaw-Kwahu Station, at the
Kwame Nkrumah Circle Neoplan Station told the GNA that the GRPTU
officers examined the cars, tyres, licenses, road worthy stickers, and
reflectors of drivers before allowing them to operate. "If you don't
have these things with good health, we will not allow you to move" he
said. He disclosed that the Nkawkaw-Kwahu fare differed depending on the
type of bus a passenger wanted, adding that, the fare had remained the
same for three years.
He said the station did not record any accident cases from the
Accra-Kwahu trips last year during the Easter festivity due to the
training and advice they gave to the drivers and hoped this year won't
be exceptional. Mr Afari said as at 1000 hours, over 40 buses had
already set off to Nkawkaw-Kwahu from Accra and he believed the number
would increase on Friday and Saturday.
"Due to this, we had to ask drivers of buses that had already reached
their destination to return to Accra with empty buses to convey more
passengers, else we would be pressurised here," he said.
Mr I. K. Nkrumah, the Chief Announcer for the Kwahu town told the GNA
that the people of Kwahu used the Easter season to clean up and beautify
the town. Mr Nkrumah who was also a passenger in a bus at the station
urged residents to expect the Easter celebration at Kwahu to bring unity
to them and the entire nation.
Mr Kwasi Fred, a 22-year-old passenger told the GNA at the station that
Kwahu was the best place to be at the Easter festive season, especially
at the communities of Obomeng, Obo and Mpraeso.
"I am going to Kwahu to enjoy life especially since this period is for
the youth. You know, the songs in town now are meant for us the youth to
dance and chill-out.
"My mother advised me not to let anything prevent me from being happy,
therefore I have to enjoy life even though with limits," he said. Mr
Fred said he chose to board Sprinter bus instead of Yutong bus because
of its speed in order to get to his destination quickly.
"The long buses waste time, and even though, speeding kills, if the
driver has experience, definitely God would take us to our destinations
safely," he said.