Ghana's High Commissioner to UK and Republic of Ireland, Papa Owusu-Ankomah has underscored the need for deepening the City of London's relationship with Ghana as the country seeks to position itself as the financial hub for the West Africa sub-region.
The High Commissioner made this statement during a courtesy call on Rt. Honourable Lord Mayor of the City of London, Alderman Charles Bowman on Tuesday, 3rd April at the prestigious Mansion House.


High Commissioner in discussion with the Lord Mayor
The Lord Mayor, Alderman Charles Bowman, a senior partner with PwC, took over as the 690th Lord Mayor of the City of London on 10th November 2017.
In his welcome remarks he touched on the excellent relationship that has existed between his office and Ghana which has culminated into high level business visits to Ghana led by previous Lord Mayors.
The Lord Mayor indicated that various eco-systems have come to play in making the City of London a financial hub in the world and these include the city's state of the art infrastructure, education and skilled manpower, security, tax regime, legal environment, fintech, transportation, etc.
The High Commissioner assured the Lord Mayor that Ghana, has over the years consolidated its political stability which has become a reference point in the sub-region.
However, the goal of the current government under the leadership of the President, H.E. Nana Addo Dankwa Akufo-Addo is to move Ghana Beyond Aid which involves mobilisation of human resources and leveraging domestic savings and revenues transparently; expanding financial inclusion with credit services and saving systems as well as resolute efficiency and accountability in the use of all public resources.
H.E.Papa Owusu-Ankomah also underscored the fact that, Ghana is on the path of digital transformation which is expected to revolutionize the development agenda and assist the country to leap-frog, where necessary.
The High Commissioner, therefore, called on the UK private sector operators to partner with Ghanaian private sector in this direction where UK is noted for best practices and expertise.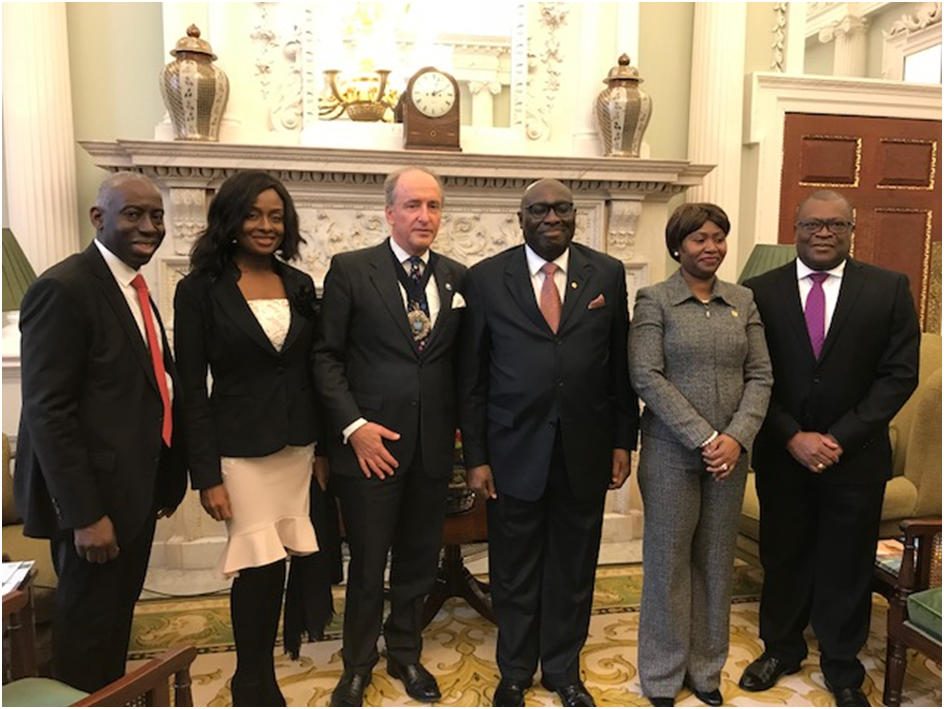 High Commissioner, The Lord Mayor and Officials of the Mission
The High Commissioner and the Lord Mayor agreed to hold meetings between their respective officials on a proposed study tour of selected Ghanaian officials to UK after the Commonwealth Meeting in London.
The High Commissioner assured the Lord Mayor of the commitment of the Ghana Mission in the United Kingdom to support and assist UK businesses in making prudent business and investment decisions about Ghana.
In attendance were Ben Shaps, Accountant Manager and Duncan Sparkes, Senior Programme Manager, Office of the Lord Mayor, as well as Matilda Osei-Agyeman, Head of Chancery, George Blankson, Head of Welfare and Consular, Joyce Asamoah-Koranteng-Head of Political and Economic and Kofi Addo, Head of Trade and Investment, all from the Ghana High Commission.